Behind-the-Scenes Travel Journal: Ferris Bulldogs Men's Basketball Team at the NCAA Division II Tournament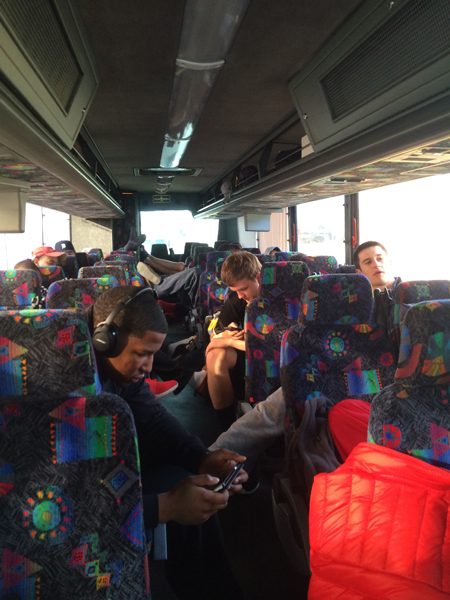 LOUISVILLE, Ky. – Here's a special behind-the-scene peek at the Ferris State University men's basketball team's trip to the Louisville, Ky. for its 10th all-time NCAA DII Tournament appearance.
Thursday, March 12
12:45 p.m. – After practice, the team departed from Wink Arena. Any good bus trip starts with a meal from Cranker's, which the guys got for the bus ride. Nothing like watching movies to make the trip go by faster. The guys watched Fury and Remember the Titans on the way down.
8:15 p.m. – After a 7-and-a-half hours the guys arrived at their hotel.
9:00 p.m. – Just enough time to drop their bags and head to dinner at Mark's Feed Store Bar-B-Q for a taste of Kentucky's finest "QUE." The guys enjoyed a wide-choice of barbeque ribs, sandwiches and brisket.
11:30 p.m. After dinner, it was back at the hotel and lights out.
Check back for Day 2 of this Ferris men's basketball journal series at the NCAA Division II Midwest Region Tournament at Bellarmine University in Louisville, Ky.
CAPTION: Here is the team on the bus headed to Louisville, Ky. on Thursday, March 12. The team traveled from Big Rapids, Mich. to Kentucky.