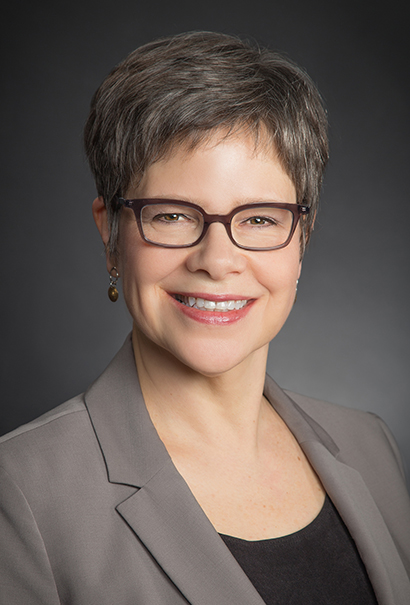 GRAND RAPIDS, Mich. – Leslie Bellavance has been named the next president of Kendall College of Art and Design of Ferris State University.
Bellavance is currently dean, director of graduate programs and a professor at the School of Art and Design at Alfred University's New York State College of Ceramics, which offers three of the top-rated Master of Fine Arts programs in the country. Nationally, Bellavance serves on the Board of Directors for the College Art Association, the National Association of School of Art and Design and the National Council of Arts Administrators.
Her 35 years of experience in higher education includes 24 years with the University of Wisconsin-Milwaukee, where she was director of graduate studies in the Department of Visual Art, interim associate dean of the of the Peck School of the Arts and professor of Visual Arts. She was also director of James Madison University's School of Art and Art History and professor of Art.
"We are pleased and excited to welcome Leslie Bellavance as the next president of Kendall College of Art and Design," Ferris President David Eisler said. "She brings a national reputation, a depth of higher education experience and an appreciation for the Kendall mission of preparing students for careers and leadership positions in a wide range of art and design fields. She has both the background and skills to help advance not just Kendall, but the broader arts and design community in Michigan."
"Kendall College of Art and Design has the key features of a contemporary art and design school that provides immediate and relevant learning experiences to students that also serve them into their career lives," Bellavance said. "These include a curriculum that engenders individualized accomplishment and engagement in community interactions. The growth of Kendall College of Art and Design as a school and as a cultural force in the city of Grand Rapids is incredibly exciting."
Bellavance holds a Bachelor of Fine Arts degree from Temple University's Tyler School of Art, and a Master of Fine Arts degree from the University of Chicago with photography and drawing as her major areas of study. She also studied at St. Mary's College in Rome, Italy; at the University of Rhode Island, in Wakefield; and St. Mary's College, in Notre Dame, Ind.
Her extensive list of professional achievements include fellowships from the National Endowment for the Arts and the Wisconsin Arts Board, among others. She has exhibited her work widely including solo exhibitions at the Milwaukee Art Museum, the Center for Creative Studies in Detroit and the Randolph Street Gallery in Chicago. Her work has also been featured in more than 40 group and invitational exhibitions, including in international venues.
Cindy Todd, Art Education program chair and Ron Riksen, interim academic dean for KCAD, co-chairs of the Presidential Search Committee, said: "Together with 12 colleagues representing all facets of our college and three members of the Grand Rapids community we conducted a national search which produced an extraordinarily strong pool of candidates. We brought five candidates to campus, engaging them with Kendall students, faculty, staff and the community. Leslie Bellavance clearly emerged as the person best suited to build on the Kendall's strengths and lead its future."
Since its merger with Ferris State University in 2001, Kendall College of Art and Design has grown both in terms of enrollment, academic offerings and its physical campus. During this period the college has nearly doubled its student body to its current enrollment of 1,438 students in Fall 2014. Recent new programs include Fashion Studies in the Pamella Roland DeVos School of Fashion, Collaborative Design and Medical Illustration. Kendall has also expanded from a single building into a vibrant urban campus encompassing the Kendall Building, the Woodbridge N. Ferris Building (the former Federal Building) and the Urban Institute for Contemporary Art. The college hosts two exhibition venues for the ArtPrize competition, and is home to Boyer Sculpture Garden and the Wege Center for Sustainable Design.
"The historic and continuing accomplishments of Kendall College of Art and Design and Ferris State University are evidence, I believe, of a dynamic culture of achievement, excellence, and forward vision," Bellavance said. "The power of these accomplishments captures my imagination now and will inspire my leadership as I join this vital community."
Her appointment begins officially on Wednesday, July 1.