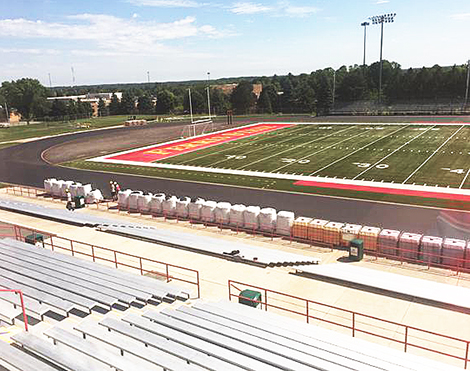 Renovation to the track surface at Top Taggart Field is underway. Ferris State University's Board of Trustees approved the project during its December 2014 meeting.
Star Trac Enterprise LLC, based in Southfield, Mich., was awarded the bid to replace a track surface. The old surface was originally installed in 1998 with a life expectancy of 12 years. The track is now 16 years old and due for replacement. The new track will be an impermeable polyurethane sandwich system on an inch and a half of new asphalt sub-base and appropriate drainage improvements for the stadium. The track's life expectancy is 20 years with a new running surface required in years 10 to 13.
The Athletics Department estimates that approximately 5,000 people use the track during a given year. In addition to intercollegiate track team use, the surface is used by several other intercollegiate sports for training. Top Taggart Field is heavily used by club sports, faculty, staff and students participating in university recreation and wellness activities. Summer campers also use the facility. Local high schools utilize the track for track and field meets.
The renovation is expected to be completed by the end of Summer 2015 and is being funded through existing university Physical Plant funds.

To learn more about Top Taggart Field, visit the Athletics website.