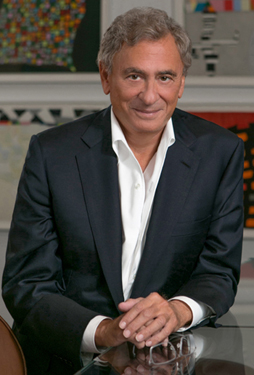 Mickey Shapiro knows from personal experience that school isn't easy for everyone. That is why he decided to establish a scholarship for students at Ferris State University who are working hard to create a better future for themselves.
Shapiro did not focus on academics in high school, but was accepted by Ferris into a summer program designed to prepare him for the demands of higher education. He successfully completed the summer program and was accepted at Ferris as a freshman in 1965. He used the tools provided by Ferris to improve his GPA by more than one point.
Today, Shapiro is a successful real estate developer with ownership positions in numerous real estate entities across the United States. The financier, a minority shareholder of the Chicago White Sox, is also actively involved in numerous charitable organizations.
Shapiro wants Ferris students to know they can be successful too. He established the Mickey Shapiro Opportunity Endowed Scholarship to acknowledge and support provisionally-admitted students who successfully complete their trial year.
"School is not easy for some people, so I want to recognize those who have to work extra hard to succeed," Shapiro said. "I also wanted to give back to the school that gave me a chance."
The most improved award
The scholarship will be awarded to full-time undergraduate students who successfully complete their trial year in a program overseen by Retention and Student Success, the home for academic support services at Ferris. Additionally, preference will be given to students who have made the most improvement by the end of their first year and who have overcome obstacles, such as socio-economic or educational disadvantages, physical or learning disabilities, and/or are first-generation college students.
William Potter, the office's associate provost, commended Shapiro for establishing the scholarship and recognizing the university's commitment to providing an education to anyone willing to work for it.
"It's the Ferris tradition to be generous in its admission standards," Potter said, citing one of his favorite quotes by founder Woodbridge N. Ferris: "Far better to let down the bars and admit every candidate on condition that he will do his work successfully."
"That's the model we are following with Shapiro's scholarship," Potter said. "The scholarship supports students who represent the Woodbridge Ferris vision of educational opportunity. (Ferris) would be proud that the students' accomplishments could be rewarded in this way and that these students are now able to complete their degrees without additional loans."
The Shapiro scholarship will fulfill recipients' unmet financial need for the following year.
Potter called the Shapiro scholarship "the Most Improved Award." "Improving a college GPA by a large margin is not easy and can often require students to repeat classes," he said. "Coming from high school, it's a little bit easier, but not much."
The first five students chosen to receive the scholarship recently met with Shapiro at Ferris' new University Center. They were joined by Shapiro's friends, Ferris alumni Alan Finer, 1966; Jules Goldman, 1967; and Dennis Lerner, 1970. The men, whom Shapiro met while attending Ferris, joined him in sharing their experiences with the scholarship recipients.
"We were in the same boat 50 years ago," Shapiro told the students. "Now look where we are. You can be there, too." He commended the recipients for their efforts and told them to "make the conscious decision to work hard, do better and stick with it."
Rising above adversity
The students shared stories of their struggles in school and how they are developing skills for success, from time management to how to deal with difficult family and financial situations. All of the students credited the university's Retention and Student Success office.
"I think I can speak for all of us here today – our time here at Ferris wasn't just about how to improve our grades. We had to drastically improve our lives," one recipient said. "We had to improve our mindset in order to improve our grades."
The students – three juniors and two sophomores – expressed their gratitude to Shapiro for the scholarship, noting the financial support will allow them to focus more on their studies and to get involved in extracurricular activities such as professional organizations.
They also felt inspired. "I hope one day I will be able to give something back to others, possibly in the form of a scholarship to future students like myself," one of the students said.
Shapiro's generosity doesn't stop with the scholarship. He also offered to provide guidance by staying in touch with the recipients and plans to meet with them next year.
Shapiro experienced a challenging start to his own life. He was born in 1947 in a displaced persons camp in Germany. He was two years old when his parents, Asa and Sara, both Holocaust survivors, came to Detroit after World War II with just $8 and unable to speak English. They rebuilt their lives in the U.S., and his family story inspires his philanthropy.
"When you start with nothing, you want to give back when you have the chance," said Shapiro, whose generosity is considerable and wide-ranging.
He recently donated funds to create the Sara and Asa Shapiro Heart and Vascular Intensive Care Unit and the Mickey Shapiro Endowed Chair in Cardiovascular Surgery at Beaumont Hospital in Royal Oak, Mich.
Shapiro, who transferred from Ferris to Michigan State University, graduating in 1969, is CEO of M. Shapiro Real Estate Group and a principal of Lautrec Limited, a real estate management company in Farmington Hills. In addition to residential multi-family communities, the Shapiro family is also one of the largest private land owners in Oakland County.
He serves on the Kellogg Eye Center Advisory Board of the University of Michigan and is chairman of the Wellness Committee of the Cleveland Clinic. Also, in 2002, he was appointed by President George W. Bush to serve on the United States Holocaust Memorial Council.
In September, Shapiro will co-chair an event with Academy Award-winning director Steven Spielberg, founder of the USC Shoah Foundation – The Institute for Visual History and Education. Shapiro, a member of the institute's Board of Councilors, and Spielberg will present William Clay Ford Jr., executive chairman of Ford Motor Company, with the institute's Ambassador for Humanity Award at the organization's annual gala in Detroit.
Shapiro resides in Bloomfield Hills, Mich.
For more information about the Mickey Shapiro Opportunity Endowed Scholarship, contact The Ferris Foundation at (231) 591-2365 or visit the website.