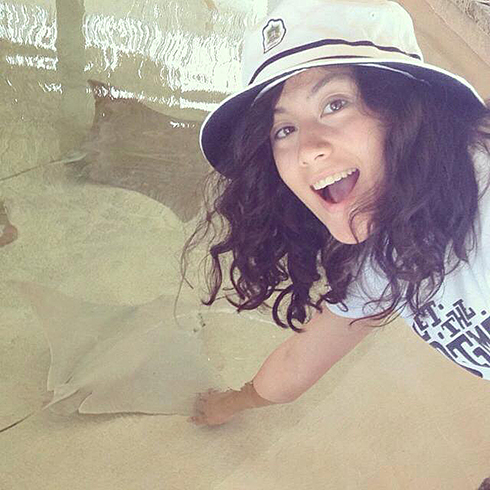 Lola Schultz, a junior from Midland, Mich. majoring in Music Industry Management, will serve as the 2015-16 president for Entertainment Unlimited, Ferris State University's campus programming board.
Schultz made the move to Ferris in Fall 2012 due to the university's unique Music Industry Management program. She joined EU during her second year when an open programming coordinator position opened up.
"My time with EU the past two years has helped me integrate into my professional and personal development here at Ferris," she said. "I hope to be a resource for EU members who seek to discover their interests and actualize their future by getting involved."
During the 2014-15 academic year, Schultz had the opportunity to serve as a Ferris Fest coordinator, where she oversaw the entire concert, through every step of the planning stages.
EU consists of 30 general members that are charged with the responsibility of planning and executing a variety of events throughout the year, including: comedians, hypnotists, speakers and Ferris Fest.
"I would like to continue with this past year's focus on collaboration," Schultz said. "More cultural and interactive events are something you will see from us in the upcoming year."
Schultz will be working to continue her goals of providing wonderful events to the students of campus with her upcoming executive board:
Vice President of Internal Affairs: Jamie Klinger, Business Administration, Leslie, Mich.
Vice President of Programming: Joshua Moscatello, Computer Science, Memphis, Mich.
Ferris Fest Coordinator: Rachel Bernstein, Music Industry Management, Chicago, Ill.
Ferris Fest Co-Coordinator: Lydia Flynn, Music Industry Management, Vernon Hills, Ill.
Finance Chair: Chris Cipko, Health Care Administration, Traverse City, Mich.
Communication and Co-Sponsorship: Ambre Pipe, Pre-Optometry, Grand Rapids, Mich.
Programming Coordinators: Justin Stevenson, Hotel and Resort Management, Detroit, Mich and Lacie Tryan, Music Industry Management, Nora, Ill.
Publicity Coordinator: Cat Lawler, Music Industry Management, Troy, Mich. and Ty Carson, Public Relations, Pinconning, Mich.
Graphic Design: Chelsea Marzean, Graphic Design, Alpena, Mich.
For more information on EU, follow them on Facebook.
EU events are made possible through allocation of funds by the Finance Division of Student Government.