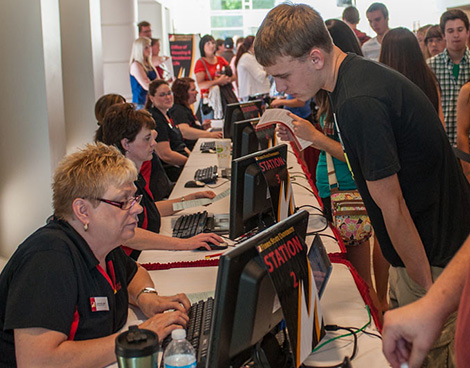 Ferris State University will welcome more than 2,000 students to campus for orientation.
Incoming and transfer students begin orientation the week of Monday, June 15. This one-day program allows students to familiarize themselves with campus and to become knowledgeable about their academic major, campus resources, support services and more. Organizers note that orientation is important for these students as they begin their bulldog journey.
"Experiencing new student orientation helps students and their families make the transition to what life is like as a Ferris Bulldog," said Eric Simone, coordinator of admissions event programming.
Orientation check-in begins at 9 a.m. and the day wraps up by approximately 4:30 p.m. Students will have their identification card photo taken; opportunities to meet faculty, staff and academic advisers; register for classes; and to dine with two guests at The Rock Café.
"We want to help them get all of their questions answered, learn about what Ferris has to offer while getting the opportunity to meet with other Ferris students, faculty and staff," Simone added.
All orientation sessions are led by student volunteers who are currently enrolled in classes.
"It is an important piece of the process for students to come to campus and see where they will be in the fall," said Erin Moore, a junior in Public Relations from Cass City, Mich.
The first day of classes for the fall semester is Monday, Aug. 31.