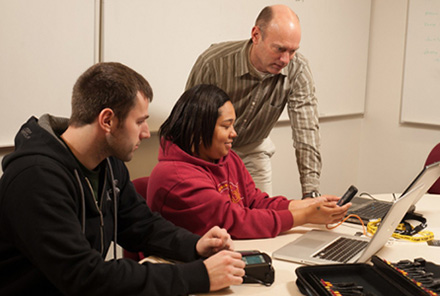 The National Security Agency and the U.S. Department of Homeland Security have designated Ferris State University as a National Center of Academic Excellence in cyber defense education.
Greg Gogolin, an Information Security and Intelligence professor in Ferris' College of Business, was notified of the program's designation – one that spans academic years 2014 through 2020. The university was recognized due to its ability to meet increased program criteria demands relative to the protection of the national information infrastructure. The national strategy to secure cyberspace, dating back to 2003, and the international cyberspace strategy, dating back to 2011, addressed a shortage of skilled and trained professionals. The designation further highlighted the importance of higher education as a solution to the defense of the nation's cyberspace.
"The National Security Agency is the premier security authority in the world," Gogolin said. "We're excited about this recognition for our university and for our programs. Ferris is the only university in the Michigan university system to be designated an NSA Center of Excellence and we achieved the designation in both information assurance and cyber defense."
"Like all nations, the U.S. has a compelling interest in defending its vital national assets, as well as our core principles and values, and we are committed to defending against those who would attempt to impede our ability to do so," Karen Leuschner, the national CAE program manager for NSA, wrote to Gogolin.
Gogolin noted that this latest designation complements prior recognition in digital forensics.
"The NSA designation, together with our Department of Defense DC3 Center of Excellence in Digital Forensics, are the highest certifications in the security field that are available," he said.
Ferris offers a Bachelor of Science in Information Security and Intelligence and a Master of Science in ISI. Career options include computer forensics, fraud investigation and more. Bachelor's degree graduates have opportunities to work in finance, education, government, health care, intelligence, security and more. The ISI master's program prepares students for careers in business intelligence, incident response and more.
Learn more about the Information Security and Intelligence program at Ferris.