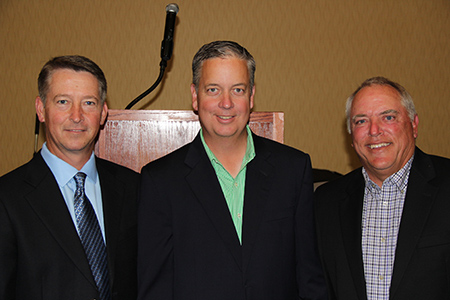 LPGA star Kelly Robbins, six-time Michigan Open winner Scott Hebert, award-winning PGA teaching professional David Kendall and self-taught amateur standout Greg Davies were inducted in Michigan Golf Hall of Fame ceremonies Sunday at Ferris State University.
Hebert and Kendall are both alumni of Ferris.
The group's election brings the Hall of Fame's membership to 109. Ferris' Katke Golf Course is the home of the Hall of Fame, which will soon be part of a planned new golf facility.
Hebert, 46 and an Escanaba native, is playing this week in the 98th Michigan Open. His six Open championships have him tied with Al Watrous, who was a member of the Hall's first class. Like Kendall, Hebert is a graduate of Ferris.
He turned professional in 1993 and won twice on the NGA Hooters Tour after winning the state championship six times. He considers his biggest win the 2008 PGA Professional National Championship, which is the top prize for club professionals.
Hebert continues to dominate in the state. He has won the Michigan PGA championship seven times, which are three short of another Watrous record, and has developed a strong following as a teacher. Hebert recently became head professional at Traverse City Golf & Country Club.
"This is clearly one of the highlights of my career," Hebert said. "I look at the names of the golfers in the Hall of Fame and I'm humbled to have my names with them."
Kendall, 60, a 1980 Ferris alumnus and the first in the class to become an A1 PGA Member. His first head job was at Cadillac Country Club in 1981. Later, he moved south to Ypsilanti where he established the Kendall Academy at Miles of Golf.
He was ranked No. 2 on Golf Digest's list of Top Teachers in Michigan. He has been named Michigan PGA Teacher of the Year twice, Golf Professional of the Year twice and was inducted into the Michigan PGA Section Hall of Fame in 2013.
As a player Kendall has won the Michigan Senior Open championship twice, the Senior PGA, Senior Match Play, the PGA State Pro-Am, the State Pro-Pro three times and played on six Fuller Cup teams.
"I can't believe I'm in the Hall of Fame," Kendall said. "And this class I'm going in with of great champions. I'm so happy to be the fourth golfer in this group."
Robbins, who currently lives in Maine and was unable to attend the ceremony, was represented by her parents. The 45-year-old long hitter won nine times on the LPGA Tour including the major McDonald's LPGA Championship, was a member of six Solheim Cup teams and assistant captain of the 2009 Solheim team. She was also a two-time first team All-American at the University of Tulsa where she led the team to the NCAA title in 1988. In 1991, Robbins was honored as NCAA Co-Player of the year along with the University of Arizona's Annika Sorenstam.
After winning the North and South Amateur in 1991, she turned professional. Robbins had 91 career top ten finishes, won $5,738,599 and is second only to Hall of Fame member Meg Mallon among Michigan golfers in LPGA earnings and titles. Her career was cut short by a back injury and her last Tour appearance was in 2005.
"She is really excited by this," said her mother Margie, who read a letter to the Hall of Fame audience from her daughter. "She was always proud to be from Michigan and Mount Pleasant, and she feels blessed by the career she had and that people remember her."
Davies, 47 and a West Bloomfield resident, considers the 2006 Michigan Amateur win his greatest. It came at age 36 and followed consistent excellence in Golf Association of Michigan and Michigan Publinx Golf Association tournaments.
After playing college golf at the University of Oklahoma, he made the Publinx Honor Roll 18 times and the GAM Honor Roll eight times, was in the "Sweet 16" at the Michigan Amateur nine times, was the only golfer to win the Michigan Publinx trio of major titles in the same year (1999) and also won GAM Mid-Amateur (2003, 2005) and GAM Mid-Senior Amateur (2013) titles.
His eight times as Publinx Player of the Year is the most all-time, and a reflection of his four Publinx State Match Play wins, two State Medal Play titles and two Syron Memorial wins.
"I never thought this was possible," Davies said. "I always just enjoyed the process, the practice and trying to accomplish things. To think I'm going in the Hall of Fame with Kelly Robbins, Scott Hebert and Dave Kendall is such an honor, so humbling."
PHOTO CAPTION: From left, Greg Davies, Scott Hebert and Dave Kendall were inducted into the Michigan Golf Hall of Fame Sunday at Ferris State University. Kelly Robbins was also inducted, but unable to attend.