Ferris State University faculty, staff and students come from all over the world with one thing in common- Ferris as ultimately their No. 1 choice. In the Ferris First series, we chat with members of the University community to learn more from them about why Ferris was their No. 1 choice.
They all have a story. Here, we tell part of that story. Meet: Zachary Grabovic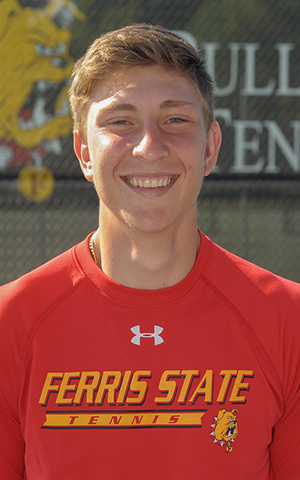 He is: A freshman in the Psychology program from Melbourne, Australia.
How did you find out about Ferris? Zachary found out about Ferris through the help of his tennis coach in Australia, who got in contact with the Ferris tennis coaching staff. The two of them then began talking about Zachary going abroad.
Why was Ferris your No. 1 choice? Zachary chose to come to Ferris simply for the tennis program.
What do you like most about Ferris? "What I like most about Ferris is my teammates and the opportunities that I am given by being at Ferris," Zachary said.
What do you enjoy about your academic major? Zachary noted that his academics help his mental game in class, but also on the tennis court.
How is Ferris preparing you for your future? Ferris is preparing Zachary for his future by helping him gain understanding of his own life and life beyond college.
Why should Ferris be a top choice for others? Zachary believes that Ferris should be a top choice for others because of the great people and the great opportunities.
What is the best part about being at Ferris? "I'm on my own and I get to see how life is going to be after school from my experiences, but I never feel alone because I have my teammates," Zachary said.