Ferris State University faculty, staff and students come from all over the world with one thing in common- Ferris as ultimately their No. 1 choice. In the Ferris First series, we chat with members of the University community to learn more from them about why Ferris was their No. 1 choice.
They all have a story. Here, we tell part of that story. Meet: Solène Bouret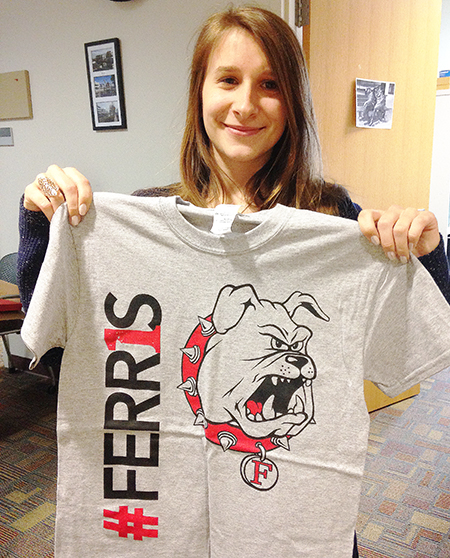 She is: A junior in Business Administration from Langres, France.
How did you find out about Ferris? Ferris is one of the schools in partnership with Solène's school in France.
Why was Ferris your No. 1 choice? Visiting the U.S. during her year abroad was Solène's goal. Since Ferris is the only school in America that is partnered with her school, Ferris was an obvious choice.
What do you like most about Ferris? "I like the diversity; there are so many international students. I also enjoy attending events, particularly the ones put together by the International Student Organization. The campus, the new buildings and the library are very nice and the University Center is so peaceful," Solène said.
What do you enjoy about your academic major? Solène loves the fact that students at Ferris can choose their classes. This way, she can take part in classes that interest her, such as marketing, leadership, international trade and more.
How is Ferris preparing you for your future? Solène is not only learning from the classes she takes, but her English is also improving since her classes are taught in English.
Why should Ferris be a top choice for others? "Ferris is well reputed and has a good quality of teaching," Solène said. "Everything Ferris does sets students up for success. You are never alone if you have issues."
What is the best part about being at Ferris? Solène loves that she is able to meet and make friends with a diverse group of students because she is interested in discovering different cultures.
"While attending Ferris, I get the chance to explore Michigan, experience the cold, and travel to Canada and around the U.S.," she said. "I also love being a part of the Bulldog spirit."