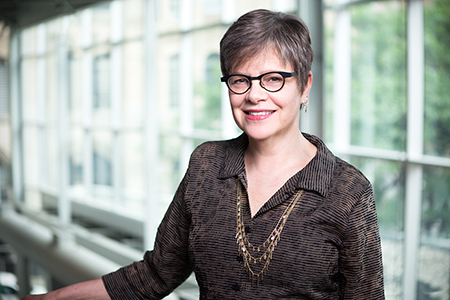 GRAND RAPIDS, Mich. — The next chapter in the storied history of Kendall College of Art and Design of Ferris State University began on Wednesday, July 1 when the college officially welcomed its new president, Leslie Bellavance, to campus.
Bellavance takes the reins at a time when both the importance of creative education and the economic impact of the creative sector are rising to international prominence. Recent studies show the link between creative education and more developed critical thinking, problem solving, and communication skills – all of which are in increasingly high demand from employers.
Bellavance brings 35 years of experience in higher education, a broad resumé of professional artistic practice, and an impressive track record of helping drive larger conversations surrounding the arts and creative education. With her background, she understands the growing need to position creativity as an integral component of education from early childhood through higher education and beyond.
"KCAD has nurtured an approach to teaching art and design that develops critical thinking and utilizes the methodologies of studio and design practice to build problem framing and problem solving skills," Bellavance said. "In doing so KCAD is well positioned as a leader in art and design pedagogy and in cultivating the interface between art and design and community."
Leadership
Bellavance will also serve as a vice president at Ferris, working directly with Ferris President David Eisler to continue strengthening the relationship between the two institutions.
"It is a pleasure to welcome Leslie Bellavance to Grand Rapids as president of Kendall College of Art and Design," Eisler said. "With her many years of experience building programs of national reputation and accomplishments as an artist she is superbly qualified to lead KCAD into the future. I very much look forward to working with her and am delighted to have her as a member of our leadership team at Ferris State University."
Bellavance has served as a member of the Board of Directors of the College Art Association and currently serves on the boards of the National Association of Schools of Art and Design, and the National Council of Arts Administrators. She has also served on the boards of regional and local community arts organizations in Milwaukee, Virginia and Western New York State. Through these contributions, Bellavance has focused on the areas of diversity and leadership mentoring.
"Contemporary design and art exist within complex networks of communities, reaching local and global constituencies. It is important to work to develop leadership and community engagement in young designers and artists as an integral aspect of their future work. KCAD especially serves as an example of an engaged and place-based cultural center," said Bellavance. "Through my work I hope to inspire more individuals to realize their potential for leadership."
Bellavance has a particular interest in promoting women in arts leadership. As she takes up the role of president at KCAD, she will be the only female president of an institution of higher education in the Grand Rapids area.*
Community
As President, Bellavance's first priority will be to deepen her understanding of both KCAD's internal community and the surrounding creative community of West Michigan.
"Having had the chance to tour the KCAD campus and meet with so many students, staff, faculty, and community partners during this year's Annual Student Exhibition, I'm thrilled with the amount of creative energy and potential in this college and this city," Bellavance said. "The strength of this institution starts with its rich tradition of and passion for developing creative talent, and continues with its ability to look outside of itself for opportunities to create positive, lasting impact in the world. I'm looking forward to continuing to build together."
As the KCAD community welcomes Bellavance, so does the larger creative community of West Michigan. In recent years, KCAD has taken a lead role in community building, forging key relationships with ArtPrize, Grand Rapids Public Schools, the Grand Rapids Art Museum, The Wege Foundation, and The Right Place, Inc., among other organizations. This trend is exemplified by KCAD's merger with the Urban Institute for Contemporary Arts.
"I'm looking forward to getting to know KCAD's community partners better and exploring the potential for new relationships," said Bellavance. "It's important that we strengthen our commitment to furthering shared value and collective intelligence in West Michigan and beyond."
"As a fairly recent transplant myself, it's very exciting to welcome President Bellavance to Grand Rapids, where she'll quickly become an integral member of this vibrant community of collaborators," said Christian Gaines, Executive Director of ArtPrize. "I'm looking forward to working with her as she establishes relationships and builds strong partnerships that will move KCAD forward."
Birgit Klohs, President and CEO of The Right Place, Inc. added, "We are delighted to welcome President Bellavance to KCAD and West Michigan. KCAD and Ferris State University have been outstanding economic development partners. We look forward to deepening our design partnership with President Bellavance and continuing to solidify the college's position as a catalyst and partner within the creative community."
More information on Leslie Bellavance is available at lesliebellavance.com.
*Research conducted by KCAD indicates KCAD is the only local college or university to have ever permanently engaged a woman in its top leadership position. Bellavance will be the only current female president. Resources available upon request.