ELKHART, Ind. – Casey Wiggins, a big fan of Liam Neeson and the actor's "Taken" film series, decided to follow the newest installment, 20th Century Fox's "Taken 3," on LinkedIn. That button-click also happened to be an official way to enter a contest.
Not long after clicking that button life changed for Wiggins, a 2012 Ferris State University graduate with a Bachelor of Science in Information Security and Intelligence and a concentration in Digital Forensics. On Friday, Jan. 2, Neeson's "Taken 3" character, Bryan Mills, released a video endorsement of Wiggins'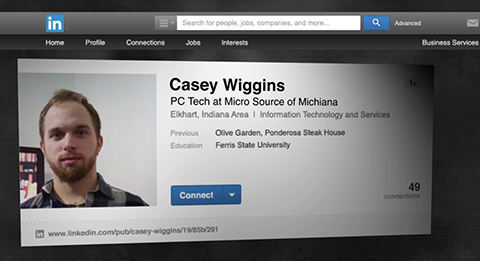 skills, "With a degree in Information Security and Intelligence, I may have need of Casey for my next mission … unless you hire him first."
The Traverse City native, currently a computer technician for Micro Source of Michiana in Goshen, Ind., ended up with one the biggest surprises of his life.
"When I entered the contest, I was thinking, 'How cool would it be for me to have Bryan Mills endorse my skills," said Wiggins, 28, now of Elkhart, Ind., who beat out more than 30,000 fellow contestants. "My reaction to winning was that my jaw dropped wide open and I thought, 'I can't believe it.'"
In the video, Mills says, "I don't make recommendations for just anyone, but Casey's profile has more stopping power than a fist to the throat. If you want to protect your family, connect with me, Bryan Mills, but if you want to protect your data, connect with Casey Wiggins. I strongly recommend you follow my instructions to the letter.
"And, if you think you can find a more qualified candidate, good luck," the character adds near the end of the video.
Trailer Park, an entertainment marketing agency, partnered with 20th ;Century Fox to host the LinkedIn contest that was inspired by Mills' signature line, "I have a particular set of skills." The contest was so popular that LinkedIn allowed Trailer Park to create a profile page for Bryan Mills – just the second time that LinkedIn had allowed a profile of a fictional character, according to Dupe Bosu, communications manager for Trailer Park.
The contest opened on Friday, Dec. 12 and ended Tuesday, Dec. 23. The winner was determined on Friday, Jan. 2.
"Taken 3" was released on Friday, Jan. 9 and, that weekend, grossed more than $39 million for the No. 1 film box office spot, according to IMDb, here.
The winning can be viewed here.
To view the LinkedIn page for "Taken 3," click here.