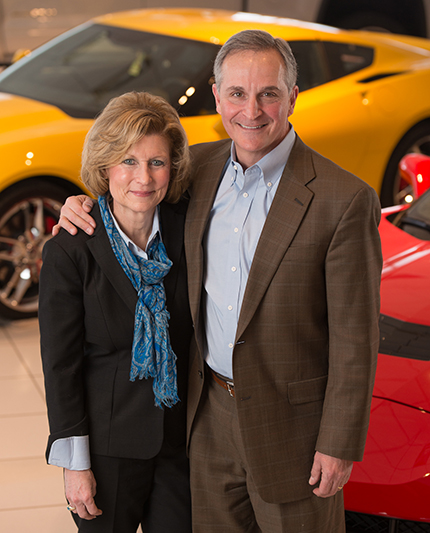 When Lynn and Gary Trimarco moved to Big Rapids 15 years ago, to open a business, they became advocates for the community and Ferris State University. Their most recent philanthropic effort will help Ferris students pursuing a career in criminal justice earn their degree.
The Trimarcos created an endowment fund to provide scholarships to full-time undergraduate students completing their final semester in the School of Criminal Justice's Law Enforcement Academy. The Lynn and Gary Trimarco Endowed Scholarship will be awarded annually.
"Police officers are so important to a community," Gary said. "We need good officers — well-trained officers. We are doing this, because we think there's a need for it."
The Trimarcos, whose niece earned her Bachelor of Science in Criminal Justice from Ferris two years ago, are passionate about the program.
"My niece can't say enough nice things about how well the program prepared her for the real world," Lynn said. She added that her niece still keeps in touch with instructors. "It was heartwarming to see how the professors were so involved with the student body. They genuinely care."
The Trimarcos are big fans of Ferris, even though they graduated from different universities. Gary graduated from Lake Michigan College, while Lynn graduated from Western Michigan University.
"Ferris is one of the neatest things in the state — it's the best-kept secret," Gary said. "Ferris provides so many different types of degree programs, plus work placement is strong. It's a place where students can study and actually work in that field when they graduate. Ferris is all about preparing students to get a job."
The university's location in Big Rapids was a big draw when the Trimarcos chose to move and open their business, Gary Trimarco Automotive. They lived in Kalamazoo for 23 years, Boston and various cities in New York before that. Ferris was a major draw when deciding to move and start a business in Big Rapids.
The couple is very active in the community and donates to several local causes, including the Big Rapids Hospital Foundation, the Salvation Army, the Mecosta County Community Foundation and Artworks.
"We want to see the community grow, and our business has allowed us to do that," Gary said. "We are very happy and feel lucky to be able to do so much in the community."
Their involvement in Ferris State includes sponsorship of Bulldog athletics and membership in the Founders donor society. Gary was tapped to join The Ferris Foundation Board of Directors in 2002.
One of the main goals of The Ferris Foundation is reducing student debt.
Over two-thirds of students graduating from American colleges and universities are graduating with some level of debt. "Nationally student loans are now the second highest form of consumer debt behind mortgages." said Carla Miller, executive director of The Ferris Foundation. "Gary works hard, in collaboration with the board, to help reduce Ferris student debt and keep a Ferris education affordable."
Reducing student debt is also a priority for Ferris President David Eisler. "We want graduates from Ferris State University to enter the workforce without being burdened by the cost of their degrees," he said.
The Trimarco Endowed Scholarship is unique, because it helps fill a gap.
"There are oftentimes more scholarships available to first-year students, but this one strives to help students in their final semester," Miller said.
Steven Reifert, interim dean of the College of Education and Human Services, is appreciative of the Trimarcos' gift.
"Each year we have students who struggle to attend the academy, not by facing academic difficulties, but financial difficulties," Reifert said. "Each year I'm faced with trying to help students overcome financial constraints to ensure their attendance in the Law Enforcement Academy. This opportunity has certainly cemented someone's ability to attend our Law Enforcement Academy."
The Trimarcos recognized the challenge.
"The students coming out of the Criminal Justice program are going to have just as much debt as other students, but odds are that they won't make as much as, say, an eye doctor or pharmacist," Gary said. "They know that, but that's not why they decided to go into their chosen field."
The Trimarcos are thankful they can help.
"One of our goals when we came here is to hopefully leave it a little better than when we got here," Gary said.
For more information about the Lynn and Gary Trimarco Scholarship Endowment or to make a contribution, contact The Ferris Foundation at (231) 591-2365 or here. For additional information on the foundation, visit here.