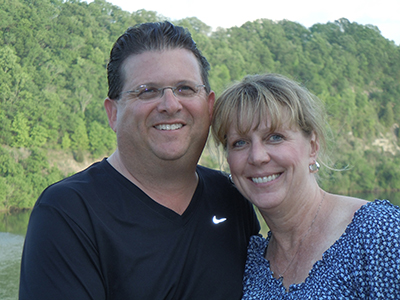 For the Proctor family, Ferris State University provided a high-quality education, as well as opportunities for community involvement and extracurricular activities. It's also where two generations of Proctors met the loves of their lives.
With four proud Ferris alumni and a tradition of helping young people, the Proctor Family Endowed Scholarship was established. Kurt and his wife, Sally (Smith), both are 1984 graduates of the College of Pharmacy. Kurt's late father, Tom, was a 1958 Pharmacy graduate while his wife, Elaine (Burgess), earned her degree the same year from the College of Business. The scholarship is based on financial need and will benefit full-time Ferris graduate students pursuing a pharmacy career.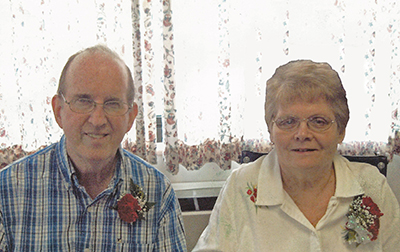 "We, as a family, wanted to help students," said Kurt, noting how important that was to his father. "We know the financial burden that pharmacy school is."
During his time at Ferris, Kurt was very active in academic endeavors and extracurricular activities. He was president of the student American Pharmaceutical Association and represented Ferris on the American Association of Pharmacy Colleges. His efforts were rewarded with the Victor F. Spathelf Leadership Award during his senior year.
"One of the things I loved about Ferris was all of the extracurricular opportunities it presented," said Kurt, who participated in theater and music activities on campus. He was president of the men's glee club and sang in a barber shop octet called the Ferris Wheels, and Ferris' Collegiate Singers. "At Ferris, you can do these kinds of things, which may not be as possible at bigger schools if you are not a music or theater major."
However, the Ferris experience he is most pleased about is meeting Sally. The couple of 30 years recently visited the Big Rapids campus as part of their anniversary celebration. While Kurt has returned to campus as a member of the Pharmacy Forward Steering Committee, it was Sally's first visit in three decades.
"I'm excited to be able to give back, and hopefully inspires another young person to fall in love with the pharmacy profession," said Sally, who discovered her own connection as a student at Ferris. One of her favorite aspects of her more than 25-year career with CVS pharmacy is working with and teaching interns.
Kurt's connection to the profession began as a child working for his parents at Old Wood Drug in Cass City, Mich., which they owned for 33 years.
"I grew up working in that store and my mother did the accounting," said Kurt, who followed in his father's footsteps by attending Ferris' College of Pharmacy, like a number of his cousins. In addition, other young people that worked in the store went on to earn pharmacy degrees. "I'd like to think that many of these people were inspired by my father."
"After my father passed in October 2013, my mother, Sally and I decided we wanted to establish a scholarship that would be around for a long time."
Since the Proctor family has such strong ties to Cass City, future pharmacy students from the thumb of Michigan — Huron, Sanilac and Tuscola counties — will be given scholarship preference.
"It's where our pharmacy was and the people there were good customers of ours, so we hope that we can help students from this area that want to study pharmacy," Kurt said.
Tom Proctor was a very active member of the community. He served on several committees and boards, as well as Cass City's Chamber of Commerce and its Rotary Club. In 1972, he began the local Rotary Youth Exchange Program, bringing students from 17 countries to the Cass City area. He and Elaine hosted 11 foreign exchange students.
Elaine still resides in the Cass City area, but Kurt's career brought him and Sally to Virginia. They now reside in Fairfax Station with their three children.
After Kurt earned his pharmacy degree from Ferris, he went on to earn a Ph.D. in Pharmacy Administration from the University of Texas at Austin in 1989.
Kurt begin his professional career with the National Association of Chain Drug Stores in Alexandria, Va. He served as president of the NACDS Foundation from 2000 to 2002 and led a two-year effort to develop and launch SureScripts, an electronic-prescribing platform.
He went on to serve as the chief pharmacy officer at Mirixa Corporation, as president of KAP Services, LLC and as a pharmacist at VHQC. He currently serves as the senior vice president of Strategic Initiatives for the National Community Pharmacists Association.
Since 2013, Kurt has spearheaded a project called Simplify My Meds, a turnkey medication synchronization program developed for the exclusive use of NCPA members. The program provides pharmacists with the tools, training and marketing to set up a medication synchronization program in their pharmacy.
The program helps patients take their medications correctly. "As a result, patients are less likely end up in the hospital," Kurt said.
"Medicine has the great power to heal and improve quality of life, but taken incorrectly, medicine can do serious harm," said Carla Miller, Executive Director of The Ferris Foundation. "This generous gift from the Proctor family invests in pharmacy students, helps ease the financial burden for families, and will yield well-trained Ferris pharmacists who will go on to help people achieve the best results from their medications."
The Proctor Family Endowed Scholarship is truly a family gift and it demonstrates their passion for Ferris and the pharmacy profession.
"It is the Proctor family's legacy and pride in the college and their commitment to its future and our students' future that is demonstrated by this generous contribution," said Stephen Durst, dean of Ferris' College of Pharmacy. "Through the endowment, students will begin their careers in pharmacy knowing that a family of Ferris graduates is assisting them. What a great source of encouragement and motivation as the students enter the pharmacy profession."
For more information about the Proctor Family Endowed Scholarship or to make a contribution, contact The Ferris Foundation at (231) 591-2365 or by email. For additional information on the foundation, visit here.


PHOTO CAPTIONS
Top: Kurt and Sally Proctor

Bottom: Tom and Elaine Proctor