Ferris State University faculty, staff and students come from all over the world with one thing in common – Ferris as ultimately their No. 1 choice. In the Ferris First series, we chat with members of the University community to learn more from them about why Ferris was their No. 1 choice.
They all have a story. Here, we tell part of that story. Meet: Mikaela Mason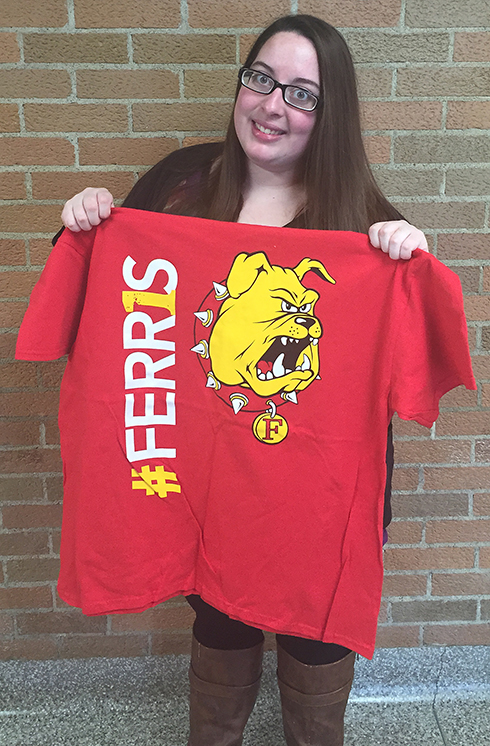 She is: A sophomore from Muskegon, Mich. majoring in Pre-Pharmacy.
Why was Ferris your number one choice? Mikaela chose Ferris for many reasons. Her main choice was for Ferris' nationally-ranked Pharmacy program, and the fact that it was the perfect distance from home was a plus too.
"The atmosphere from the faculty and the students was really genuine when I first came to visit," she said.
What do you like most about Ferris? Mikaela continues to love her experience at Ferris because of the people that surround her.
"I have met tons and tons of people in the last year, and they are always so friendly," she said. "Whether it is in a professional setting or just walking to class, it seems like I meet a new person every day."
What do you enjoy about your academic major? Being in pre-pharmacy, Mikaela enjoys the challenges that come along with her major, on a daily basis.
"There is not a day that I am not challenged to think in different ways, and I am always learning something new," Mikaela said.
What student organizations are you involved in? Why? Over her years at Ferris, Mikaela has been involved with Pi Kappa Delta (The Debate and Forensics Team), Student Government and the Pre-Pharm D Club.
"Being involved on campus has given me more opportunities than I could have ever asked for," she said. "I have been able to travel, find study partners, and network with career professionals all through my extracurricular activities."
How is Ferris preparing you for your future? Mikaela believes that Ferris is giving her a "well-rounded education."
"It's not only teaching me what I need to learn for my major and career, but Ferris prides itself on teaching us skills that we can't learn in the classroom," said Mikaela.
Why should Ferris be a top choice for others? "Ferris should continue to be a top choice for students because they have a friendly atmosphere, numerous ways to get involved on campus, and not to mention: delicious food. Go Bulldogs."