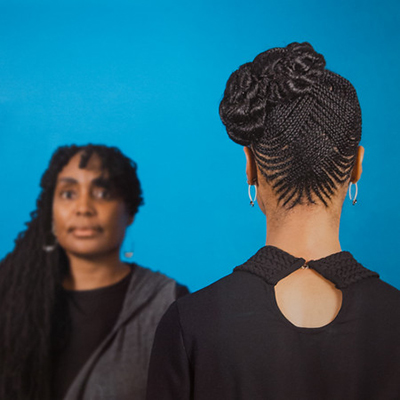 GRAND RAPIDS – The Fed Galleries at Kendall College of Art and Design of Ferris State University has planned its three-part "I AM" exhibition series, concluding on Friday, Jan. 30. A trio of the series' featured artists will be in Grand Rapids from Wednesday, Jan. 28 through Friday, Jan. 30 to take audiences inside the process behind their defining works and explore the three exhibitions' intertwining themes.
West Michigan-based photographer Stafford Smith will kick things off with a gallery talk on Wednesday, Jan. 28 from 11:30 a.m. to 12:30 p.m. Smith's life-size photo series, "POV" – a starkly provocative look at the male gaze reversed – is perhaps the most arresting work in the "I AM" series' second installment, "Assuming Positions." The talk will take place inside The Fed Galleries, where audiences will have the opportunity to see "POV" for themselves.
On Jan. 29 at 6 p.m. in room 217 of the Woodbridge N Ferris building, transgender artist Heather Cassils will discuss his own raw brand of performance art, in which he dismantles typical notions of body image. For Cassils' most recent work, "Becoming an Image," the artist documented himself repeatedly hurtling his sculpted physique against a 2,000-pound block of clay. The stunning photographs, video footage, and even a casting of the clay block itself, remains inside The Fed Galleries as a part of "I AM: Assuming Positions."
Then, as a lead up to the "I AM" closing reception on Friday, Jan. 30, ArtPrize 2014 Juried Grand Prize co-winner Sonya Clark will speak at 6 p.m. in room 217 of the Woodbridge N Ferris building. Clark's "The Hair Craft Project" (PICTURED) – a visually and conceptually powerful celebration of the artistry of Black hair-care specialists, captivated both ArtPrize jurors and the voting public this fall. In her first visit to Grand Rapids since taking home $100,000, she'll discuss what lies under the surface of her collaborative piece, as well as the reactions her work drew from the radically open art competition.
The closing reception will begin in The Fed Galleries immediately following Clark's presentation. All three talks in the "I AM" speaker series, as well as the closing reception, are free and open to the public.
For more information on the "I AM" exhibition series, visit here.

PICTURED: Sonya Clark's "The Hair Craft Project"