Ferris State University faculty, staff and students come from all over the world with one thing in common – Ferris as ultimately their No. 1 choice. In the Ferris First series, we chat with members of the University community to learn more from them about why Ferris was their No. 1 choice.
They all have a story. Here, we tell part of that story. Meet:Tom Garbe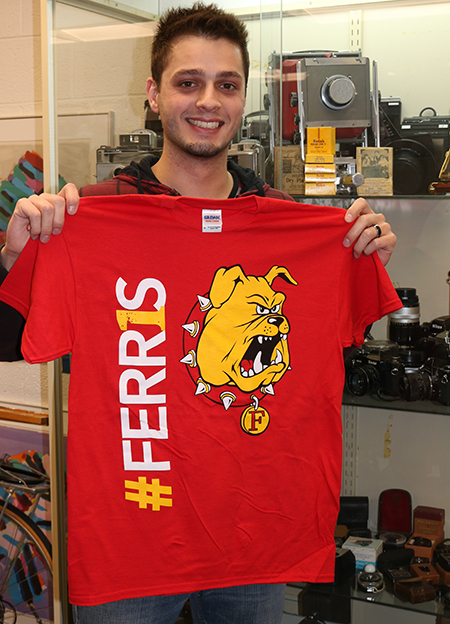 He is: A Ferris alumnus from Gladwin, Mich., who graduated with a degree in Television and Digital Media Production in 2014.
Why was Ferris your number one choice? Ferris was Tom's first choice for a number of reasons, one of which being the excellent TDMP program Ferris offers.
"I also wanted a friendly and beautiful environment for my wife and I to live for the next few years," Garbe said. "Ferris did not disappoint."
What do you like most about Ferris? "Ferris has given me so many opportunities to grow as an individual and as a professional," Garbe said. "The staff at this university makes sure their students are well-prepared for their future. For my major there is a lot of hands on learning involved. That's something I truly value in an education."
What do you enjoy about your academic major? Tom's enjoys how hands on the TDMP program is. "When I started my very first class here, they put a camera in my hands and I was out shooting stuff and being creative," Garbe said. "The professors in the TDMP program get to know their student's individual needs to better educate and excel them to their best potential."
What out of classroom experience have you been involved in while at Ferris? "Ferris not only trains us to be the best professionals in the field. They also give us opportunities to get real world experience," Garbe said. "Last summer, my classmates and I were trusted to provide coverage of the USRowing Masters National Championship Regatta. It was an amazing experience that let us bond together and grow as a group."
How did Ferris prepare you for your future? Ferris has prepared him in many ways for his current internship and future careers. "One of the things Ferris taught me that I value most is how to manage a busy work life. In many career fields work can get in the way of family. I feel that Ferris has taught me how to stay organized in my professional and family life," Garbe said. "Ferris has also given me an amazing opportunity to intern at Gorilla Pictures in Grand Rapids. Now that I have graduated college, I am ready to start an exciting career in film and television and grow my family with my beautiful wife."
Why should Ferris be a top choice for others? "I couldn't be happier with the education I received and the time I've spent here at Ferris," Garbe said. "Between the fantastic staff and the many amenities that Big Rapids has to offer, Ferris should be everyone's first choice."