Ferris State University faculty, staff and students come from all over the world with one thing in common – Ferris as ultimately their No. 1 choice. In the Ferris First series, we chat with members of the University community to learn more from them about why Ferris was their No. 1 choice.
They all have a story. Here, we tell part of that story. Meet Addam Wierbicki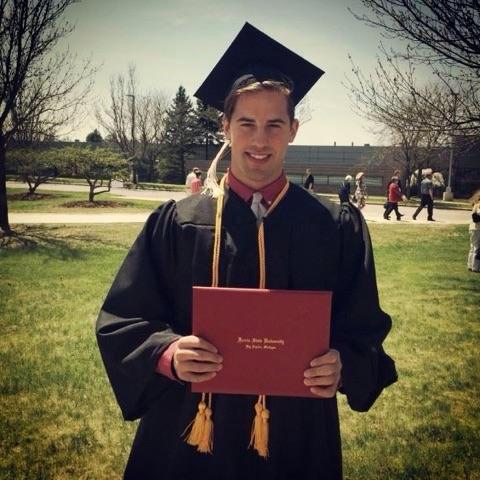 He is: A Ferris State University alumnus from Almont, Mich., who graduated with a degree in Marketing concentrated in Sales.
How did you find out about Ferris? Ferris was one of the first schools to reach out to Addam for football during his senior year of high school. Though impressed by Ferris' campus, he decided to attend Ohio Northern University for football. Homesick for Michigan, Addam returned after a year and started at Ferris.
What made Ferris your top choice in the end? "I have family ties to Ferris. My grandpa and nana met while attending Ferris. I also have a cousin-in-law who was president of a fraternity during his time at Ferris. They were definitely a big influence on me when making the transition to Ferris. It was one of the best decisions I made in my college career."
Additionally, Ferris was helpful in making sure Addam started on time for the fall semester, and all his credits transferred over.
How do you stay affiliated with Ferris? During his sophomore year, Addam joined the American Marketing Association and met great people and professors that he's still in contact with. He has every intention to stay affiliated with Ferris in the future.
What do you love about Ferris? Addam enjoyed the atmosphere and arrangement of campus at Ferris.
"The layout of campus is very centralized and all within walking distance, which allows you to constantly be around the great students at Ferris. The professors are all very engaging and passionate, which is not always an easy combination to find at the college level. I also viewed Ferris' size as just right, like the Goldie Locks idea. It's small enough to keep everything tight-knit and personable, but it is big enough to experience the diversity you want to experience when going away to school."
Why should Ferris be a top choice for people? "Campus is surrounded by all the necessities that a big school has, but still has the small town feel. Even on a bigger scale, Ferris is centralized between many other popular universities, so visiting friends at schools such as Grand Valley and Central was an added bonus. The class sizes are small enough to work with a professor on a personal level. We also have a surprisingly strong and loyal fan base when it comes to sports. In recent years, we have impressed the GLIAC and that always makes me proud to see.
What is your favorite Ferris memory? Addam's favorite memories from Ferris include Ferris Fest and AMA events.
"It is such a fun, energetic event that encourages the entire community to come together after a challenging-yet-rewarding year. All of the tours and events we went on in AMA really helped mold my professional skills and was a great networking opportunity."
How did Ferris benefit you? "Making the transition to Ferris was not an easy one for me because I didn't know many people there when I started. The experience forced me out of my comfort zone and allowed me to meet some great people along the way. Ferris has helped me become a more confident individual overall and has given me the courage and abilities to keep striving toward my goals. The strong connections you make at Ferris don't just disappear when you obtain your degree, and that is something truly special. GO BULLDOGS!"