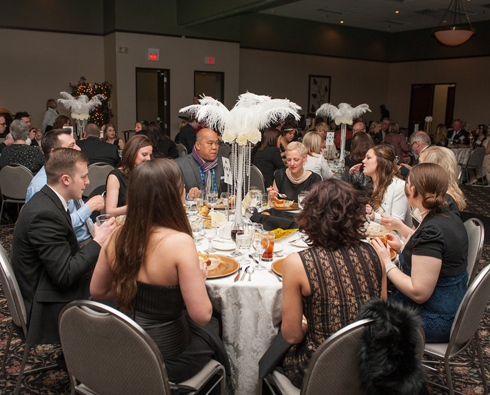 Students in Ferris State University's Hospitality Management program will host the 24th annual Hospitality Gala on Friday, Feb. 27 in the new University Center. A silent auction and cocktail party start at 5:30 p.m. and dinner service begins at 7 p.m.
This event is the main fundraiser for Hospitality Management. The Gala raises approximately $15,000 for student scholarships and funding for student academic travel expenses. Hospitality alumni, families of students, industry professionals, and community members are personally invited, seats can be purchased and reserved for $75 online through the Ferris Hospitality website.
This event showcases a "Pineapple Lounge" with memorabilia and items for previous hospitality students to enjoy during the cocktail hour. The program and dinner service provides guests with a five-course gourmet "steampunk" themed meal prepared by Hospitality students under the direction of executive chefs from all over Michigan.
A silent auction and cash bar will be available for guests to participate in by placing bids while enjoying hors-d'oeuvres and cocktails. Tens of thousands of dollars worth of items have been donated from various organizations such as Cracker Barrel, The Blue Bonefish, The Resorts of Tullymore and St. Ives, The Amway Hotel Collection, Barfly, Blue Lake Tavern, and many additional dining and lodging packages from across the country.
A live auction will be held during the evening. The highlighted item is a Washburn guitar autographed by the well-known country band, Big and Rich, donated by Quinn's Music in Big Rapids. Call-in bidding is available for interested bidders that cannot attend the event, and requires advanced registration and contact with the Hospitality Management program. The needed information and instructions for call-in bidding can be found on the Hospitality website in the weeks prior to the Gala.
More information about the Ferris Hospitality Management program can be found on their website, as well as through the social media platforms.