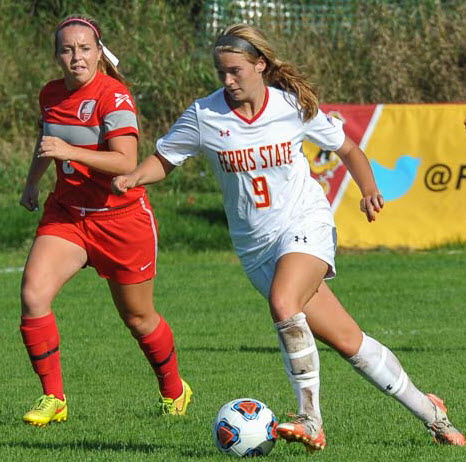 Ferris State University's soccer team, in the future, will play its home contests at a facility capable of hosting post-season tournament competition, as a project to switch locations with the west intramural fields has been approved by the Board of Trustees.
The university fielded its first intercollegiate women's soccer team in 1999, and played the team played its initial matches at Top Taggart Field, before moving their home field to the west, or Karas Intramural Fields for the 2000 season. In 2001, the program relocated its home field to the natural grass area south of South Campus Apartments.
Associate Vice President for Physical Plant Michael Hughes said that current facility lacks the physical requirements necessary for the Bulldogs to host post-season competition. Action taken by the board on Oct. 8 in Grand Rapids will allow the west intramural fields to be developed into a soccer facility that meets the NCAA's criteria.
"We'll bring on the appropriate professional services to work with the space available," Hughes said. "It's possible there will be natural grass and an artificial surface developed in that area."
Pre-construction and professional services will also be focused on renovating the parcel of land south of South Street and east of Horseshoe Drive as a site for outdoor intramural competition. Hughes said that a site closer to the Student Recreation Center should offer greater accessibility, and minimize safety concerns for students and University Recreation staff.
"Vice President Jeanine Ward-Roof has put together a small group to do some benchmarking of contemporary intramural facilities, primarily in the state of Michigan right now," Hughes said. "We're going to be in the market soon, looking for some consultants to help us do the site planning, determining how things might fit in that piece of real estate."
The campus master plan calls for demolition of the South Campus Apartments, and that land area is likely to be included in the intramural fields project. Work could begin as early as the summer of 2016, and the project is to be completed in phases through 2018, to minimize disruption to the soccer and intramural programs.


PHOTO CAPTION: The Ferris State University women's soccer team will have a new home playing field that meets with NCAA requirements for post-season competition. The university's Board of Trustees have approved pre-construction and professional services for a project to switch the location of the intercollegiate soccer field and the west campus intramural fields.