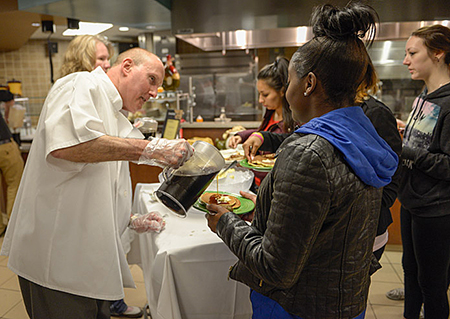 As Ferris State University's Fall 2015 semester nears an end, a finals week tradition endures as Pancakes with the President returns.
Pancakes with the President is set for Monday, Dec. 14 from 10 p.m. to midnight in The Rock Café. President David Eisler will join faculty and staff to serve pancakes to students on the first night of exam week. The end-of-the-semester event is free to students and is a tradition at the end of the fall and spring terms as a break from studying. All students are invited to attend Pancakes with the President, but must present a valid student identification card for admission to The Rock Café.
Pancakes with the President typically attracts hundreds of students. The event features games, trivia and prizes. In addition to pancakes, students can benefit from tutoring in subjects such as biology, chemistry and math, courtesy of the Academic Support Center.

The tutoring will take place in The Rock Café Private Dining Room from 10 p.m. to 12 a.m. For more information, call (231) 591-3543.
Pancakes with the President is co-sponsored by Dining Services, the Ferris Bookstore, the President's Office, the Pride Committee and Student Government.
For more information about Pancakes with the President contact Chris Cipko or Elaine Kamptner.