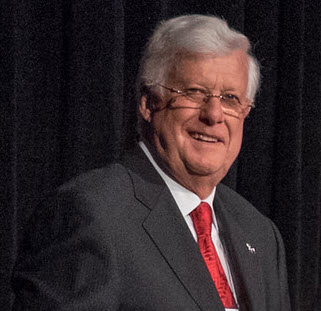 Ferris State University alumnus John Hare is the new chair of The Ferris FoundationBoard of Directors, and the retired broadcasting executive is excited by several initiatives meant to increase support of the university's academic mission, and provide opportunities for students, faculty and staff.
Hare, of Dallas, Texas, was elected to a two-year term as chair during the board's Nov. 6 meeting in Grand Rapids, Mich. He succeeds Howard Stross, of Palm Harbor, Fla., who will serve as immediate past-chair.
Following the annual board meeting, Hare spoke of his desire to build greater rapport among the 34 directors and board emeriti, for the benefit of The Ferris Foundation.
"What we're trying to accomplish is significant involvement and investment in advancing the mission of the university," Hare said. "We are all active in our respective committees. I'd like to try and get all members of The Ferris Foundation talking with each other more frequently."
The November session of The Foundation Board produced an encouraging development, as Hare said Directors met with the university's Board of Trustees.
"That's the first time it's happened since I joined The Foundation board," Hare said. "I've since been talking with (university Board of Trustees chair) Paul Boyer, and we're looking at ways we can work together to benefit The Foundation."
Another element of the annual meeting brought The Ferris Foundation Board in closer contact with advancement officers with Ferris' University Advancement and Marketing department.
"I'm very interested in working with the officers on various projects," Hare said. "We could work collaboratively to approach new donors."
The career sales and management professional was optimistic the telephone outreach program could impact a statistic presented to The Foundation board, in that only two to three percent of Ferris alumni offer financial contributions to the university.
"There's got to be a way we can improve upon that," Hare said. "Our phone-a-thon success rate has been pretty strong, it might be something worthwhile to consider growing that operation."
The Ferris Foundation was established in 1991 to address the need for a long-range fundraising program to provide opportunities for students, and as of January 1, 2015 the Foundation became the umbrella organization to receive and acknowledge all gifts to the university.
Hare was the first member of his family to attend college when he came to Ferris from Royal Oak, Mich. in the mid-1960s. He graduated from Ferris with a Bachelor of Science in Marketing in 1968, and met his wife, Joanne while he was a student on campus. He began his business career as an account executive for KXYZ Radio in Houston, Texas, and advanced to general sales management and station general management with WRQX, Washington, D.C. and WRIF, Detroit, Mich., respectively. Hare returned to Texas in 1984, and assumed progressively larger roles with ABC Radio outlets in the Dallas-Fort Worth area, while managing network-owned stations in the Detroit area.
In 1999, Hare became president of ABC Radio, heading up an international network reaching 90 countries with an estimated 145 million listeners each week. He was inducted into the National Radio Hall of Fame in 2006, and retired from the Walt Disney Company in 2007. In 2008, Hare was awarded an honorary doctorate in Business and Industry, and was appointed to The Ferris Foundation Board of Directors in 2009.


PHOTO CAPTION: Ferris State University alumnus John Hare, of Dallas, Texas was recently elected chairman of The Ferris Foundation Board of Directors. Hare has been a member of the Foundation board since 2009.