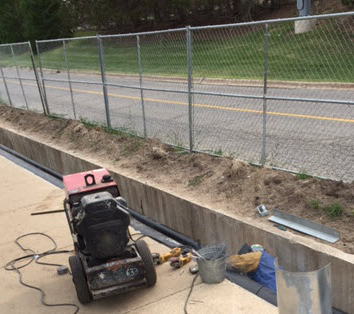 Ferris State University's students, faculty and staff are being asked to take a few extra steps for safety, as a construction project along Stadium Drive wraps up near the Student Recreation Center.
Work began in mid-May to replace 55-year-old steam and condensate distribution lines running beneath the sidewalk. Ferris' Associate Vice President for Physical Plant Mike Hughes said that contractors are installing insulated pipes that require supports built to specifications for the job.
"We knew that we were looking at an early to mid-September completion, because of the lead times on getting the materials," Hughes said.
Pedestrians can approach the SRC entrance from the east along Ives Ave. and South Street, or from the south and the west by crossing South Street at Stadium Drive. Hughes said that people walking in from central campus should use the sidewalk crossing Campus Drive that passes east of the Birkam Health Center, then continue through the parking lot just north of the center.
"We want people to be safe, be alert, aware of what's going on around them. Try and honor the direction to safe pathways, don't walk in the street," Hughes said. "We're trying to get our contractors to finish that up as quickly as we can and open that back up."
Motorists have had access to Stadium Drive throughout the project, but Hughes said drivers can expect some lane restrictions at the close of construction. Cement trucks will be brought in as crews restore 800 feet of sidewalk, once work on the underground lines is complete.
"There's fencing that delineates the construction area," Hughes said. "Just be aware, you never know if somebody's going to come walking down the street or step out in front of them, so motorists need to be really aware of distracted pedestrians in particular."
Those wishing to park near the SRC will need to approach the lot from Ives Avenue. Hughes said the new concrete will take several weeks to cure, so motorists will be kept from entering or exiting the lot via Stadium Drive during that time.