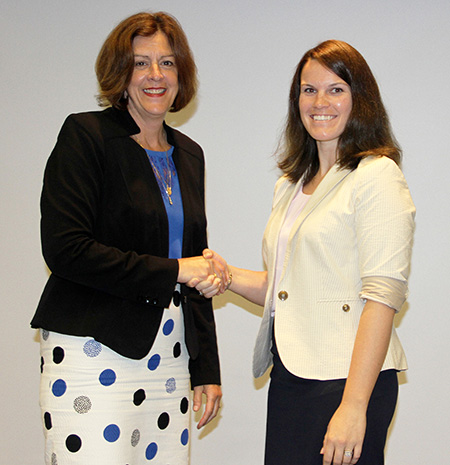 The Defense Finance and Accounting Service honored a Ferris State University graduate for her detail-oriented approach to organize the federal agency's events and ceremonies.
Megan (Eisenhauer) Bodkin was recognized by DFAS Director and fellow Ferris alumna Teresa (Fraser) McKay during an "All Hands" ceremony in July at the Bean Federal Center in Indianapolis, Ind. DFAS is a civilian agency, and the recognized leader in financial management for the Department of Defense.
Bodkin, a 2008 graduate of Ferris' College of Business, was first hired as an accountant, but now serves as the Agency Protocol Officer.
"If you would have asked me when I graduated from college if I thought I would be doing protocol for a government agency, I probably would have laughed and said, 'I don't even know what that means.' This is a wonderful, wonderful job," Bodkin said. She earned her certification following training at the Protocol School of Washington, D.C., in the spring of 2014.
As protocol officer, Bodkin said she assures that DFAS events and ceremonies adhere to requirements for the display of flags, processions, participant seating and other elements.
"I do a lot of ceremonies," she said. "We have had foreign visitors or leaders from other agencies visiting for an event or conference. No two days are alike, and I mean that in a good way."
Bodkin provides protocol guidance for about 70 situations, events and ceremonies annually, and offers protocol training to all areas of the agency.
Bodkin said DFAS Director McKay, a 1982 graduate of Ferris' Accounting program, was on the committee when she interviewed for her first job with the agency.
"I'm very thankful and flattered that she saw enough good things to have confidence in my abilities here," Bodkin said. "Once in a while, we'll do a Ferris State shout-out if we're somewhere together to have an inside moment. We did talk quite a bit when the hockey team went to the Frozen Four."
Bodkin is a native of Manchester, Mich., and her parents are Ferris alumni. Her father, Bryan, graduated in 1982 from the College of Pharmacy and her mother Cathy (Niehaus) Eisenhauer is a 1978 graduate of what is now the College of Health Professions.
PHOTO CAPTION: Defense Finance and Accounting Service Director Teresa (Fraser) McKay, left, congratulates fellow Ferris State University alumna Megan (Eisenhauer) Bodkin, right, on her performance during a July ceremony at the Bean Federal Center, Indianapolis, Ind.