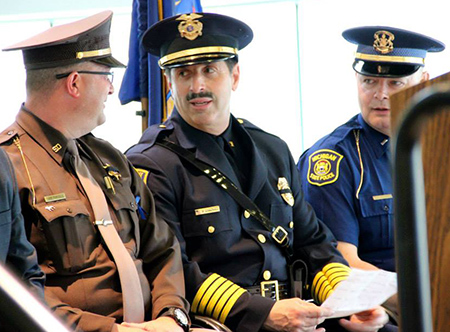 Ferris State University will host the 12th annual Police Memorial Ceremony on Tuesday, May 12 beginning at 9 a.m. in front of the Ferris Library for Information, Technology and Education (FLITE), 1010 Campus Drive in Big Rapids. It coincides with National Police Week, created in 1962 by President John F. Kennedy.
This annual event is free and open to the public. The ceremony will include bagpipers, honor guard, 21-gun salute, the playing of Taps, a K-9 protector and a riderless mount.
The memorial, which will be attended by officers representing local, county, state, federal and Ferris departments, also includes the lowering of the flag and laying of the wreath. It will conclude with Irish Blessing sung by the Big Rapids Middle School Choir.
The public will have an opportunity to visit with officers following the ceremony in an adjacent parking lot following the event.
For more information, call the university's Department of Public Safety at (231) 591-5000.