Ferris State University faculty, staff and students come from all over the world with one thing in common- Ferris as ultimately their No. 1 choice. In the Ferris First series, we chat with members of the University community to learn more from them about why Ferris was their No. 1 choice.
They all have a story. Here, we tell part of that story. Meet: Pedro Maranhao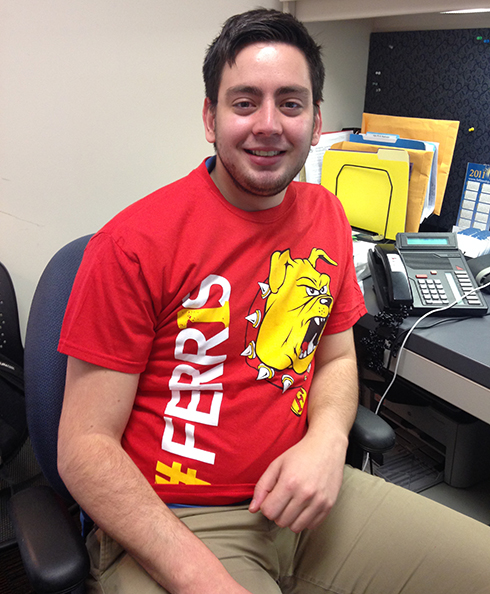 He is: an international junior student, from Rio de Janeiro, Brazil, who is majoring in Business Administration.
How did you find out about Ferris? When looking for options as part of his higher education experience, Maranhao learned about Ferris through the power of the Internet.
Why was Ferris your No. 1 choice? Maranhao's research combined with his initial Ferris experiences gave him a positive vibe as far as his higher education choice. "Ferris was my No. 1 choice because it felt like it was the right decision when I looked at the schools I was choosing between."
What do you enjoy most about your academic major? Maranhao said that thinking about what he most appreciates about his Business Administration major begins with the instruction and the instructors in the classroom. "I really believe that one of my professors, in particular, has been a great inspiration for me to learn more not only in the classroom, but also outside of the classroom."
What student organizations are you involved in, and why? Maranhao notes that he is involved in several student organizations to strengthen his Ferris experience. He mentioned Young Americans for Liberty, Alpha Chi Rho and Club Soccer as the organizations he is involved in right now.
How is Ferris preparing you for the future? "I believe that Ferris is preparing me for the future by allowing me to grow as a young professional and giving me opportunities to strengthen my network," Maranhao said.
Why should Ferris be a top choice for others? Said Maranhao, "Ferris is a fast-growing school that gives people opportunities to differentiate themselves from others."
What is the best part about being at Ferris? "To me, it's the friends that I've made and the faculty."