Ferris State University faculty, staff and students come from all over the world with one thing in common- Ferris as ultimately their No. 1 choice. In the Ferris First series, we chat with members of the University community to learn more from them about why Ferris was their No. 1 choice.
They all have a story. Here, we tell part of that story. Meet: Nicole Malouhos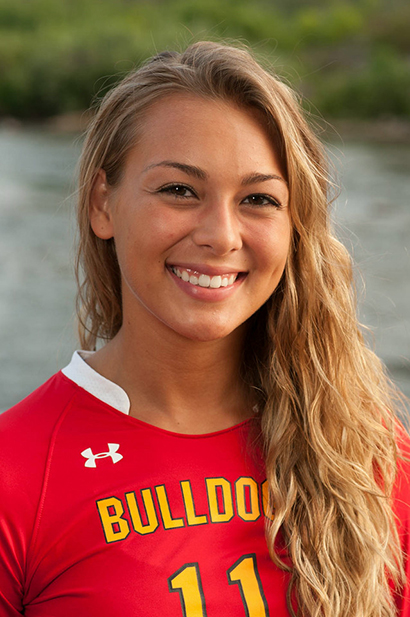 She is: a Pre-Nursing freshman from Valparaiso, Ind.
Why was Ferris your No. 1 choice? Malouhos came to Ferris to pursue an opportunity as a college volleyball player for the Bulldogs and to enroll in the Nursing program in the College of Health Professions. The 6-foot-2 middle hitter was a three-year letterwinner, two-time team captain at Boone Grove High School and was named the team's most valuable player as a senior. Malouhos was also a two-time all-conference performer.
What do you like most about Ferris? Relationships are a big part of the college experience for so many students. When asked what she likes most about her time at Ferris, so far, Malouhos answered, "The friends I have made here."
What do you enjoy most about your academic major? "I enjoy all of the possibilities that are associated with a career in nursing," Malouhos said.
How is Ferris preparing you for the future?
"Ferris is preparing me for my future by teaching me the things that I need to know for my career in nursing," Malouhos said.
Why should Ferris be a top choice for others? "I believe that Ferris should be a first choice for other people because it has a lot of good academic programs and it is also a fun place to be," said Malouhos, who was active in the Student-Athletic Advisory Committee along with the Spanish Club and earned National Honor Society recognition prior to her arrival at Ferris. Malouhos has also been active, as a volunteer, for Junior Achievement and the Red Cross while she also served as a youth volleyball coach and mentor for the Porter County Career and Technical Center.
What is the best part about being at Ferris? "Everything," responded Malouhos.
Last season, the Bulldog volleyball team finished 24-6 in Fall 2014 and won the Great Lakes Intercollegiate Athletic Conference regular-season championship.