Ferris State University faculty, staff and students come from all over the world with one thing in common – Ferris as ultimately their No. 1 choice. In the Ferris First series, we chat with members of the University community to learn more from them about why Ferris was their No. 1 choice.
They all have a story. Here, we tell part of that story. Meet: Mike Lewis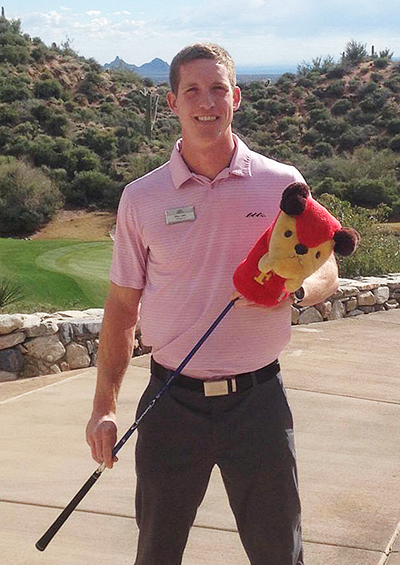 He is: a Ferris State University graduate from Montague, Mich. who majored in PGA Golf Management and minored in Club Management. Mike is now the PGA assistant golf professional at Desert Mountain Club in Scottsdale, Ariz.
How did you find out about Ferris? Mike's mother went to Ferris State College in the early 1970s, so he knew of Ferris before he ever started considering where to attend college. He added that Ferris is located fairly close to his hometown.
"The head golf professional at my home course had been a part of the Professional Golf Management program at Ferris, so when he alluded to the university in my back yard having the best PGA affiliated golf program in the country, my interest was sparked."
What made Ferris your top choice in the end? The PGA Golf Management program was the deciding factor in why Mike chose Ferris. In fact, Ferris was the only school to which Mike applied.
What do you love about Ferris? "When you think about other major schools in Michigan, there are certain things that immediately come to mind. When I think of Ferris, I think about a school for the working class. I think about the unique and exceptional programs that help set Ferris apart from other schools — not only in-state, but throughout the country."
Why should Ferris be a top choice for people? Mike stated that Ferris should be the best choice for students that hope to pursue top programs such as PGA Golf Management, Professional Tennis Management, Pharmacy, Optometry, HVAC, Plastics Engineering, Construction Management, Music Industry Management, Nursing and so on.
"If I'm a high school kid pursuing any one of the programs that Ferris historically excels in, it's a no-brainer to choose Ferris, given the unique opportunities the university presents. Looking back, I'm almost in disbelief at how well the PGA Golf Management program came through on all its promises, and truly did provide me with many opportunities to succeed."
What is your favorite Ferris memory? Among Mike's favorite memories of Ferris are intramural sports, tubing with friends, summers in Big Rapids, golfing, studying abroad in Scotland, PGM bowling, organizing events and interning across the country.
"The professors, staff members, and classmates I connected and shared memories with at Ferris are what make me such a proud bulldog and FSU alumni today."