Ferris State University faculty, staff and students come from all over the world with one thing in common- Ferris as ultimately their No. 1 choice. In the Ferris First series, we chat with members of the University community to learn more from them about why Ferris was their No. 1 choice.
They all have a story. Here, we tell part of that story. Meet: Travis Hill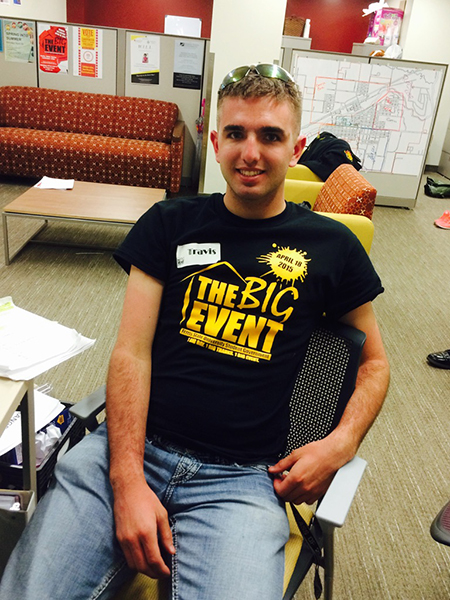 He is: a Chemistry senior from Port Huron, Mich.
Why was Ferris your No. 1 choice? "Ferris State University was my number one choice because of the size of the campus compared to other universities in the state of Michigan," Hill said. "Ferris makes me feel like I am important with the decisions I make for my academics, my organizations, and the university as a whole."
What do you like most about Ferris? "I like the professors and advisors that I meet here on a daily basis," Hill said." They want you to exceed in your major so they give you opportunities in your professional field."
Hill also enjoys the ability to obtain leadership experience through various student organizations.
What do you enjoy about your academic major? The original reason why I wanted to go into chemistry was because of the unique thinking process of why elements and compounds react in a certain way," Hill said. "Also the math and science behind chemistry lets you solve the biggest mysteries in the world."
What student organizations are you involved in, and why? Hill is majorly involved in two student organizations: Residence Hall Association and Student Government.
Hill has been a member of RHA since his freshman year, and currently serves as RHA president.
"RHA showed me the door into the graduate program of higher education/student affairs which is my next step I will be doing after I am done with Ferris State University," Hill said.
Hill started off in Student Government as a representative for RHA, as he was a sophomore. As a junior, he serves as the director of technology and as The Big Event volunteer coordinator. He currently serves as the senator of the College of Arts, Sciences and Education and as The Big Event operations coordinator.
"The reasons I been part of these two organizations at Ferris is because I loved the leadership opportunities that each organization gave me the last four years," Hill said. "The annual events that each organization puts on gives me the passion to share other students why this is important."
How is Ferris preparing you for your future?
"Ferris is preparing myself for Student Affairs because I want to help out the incoming freshmen for each year and able to guide them into their dream profession," Hill said. "The conferences I go to for RHA show me many opportunities for graduate schools that have Higher Education-Student Affairs program."
Why should Ferris be a top choice for others? According to Hill, Ferris should be a No. 1 choice for students because of the many opportunities Ferris has to offer across campus.
"The program you are in give you the opportunity to have hands-on experience so the faculty can prepare you for the future," he said. "Also, the hundreds of the student organizations on campus have an interest for all students on campus."
What is the best part about being at Ferris? "The best part of being a Bulldog is all the chances you are given to do anything and make a difference in the classroom, your student organizations, and the university as a whole," Hill said.