Ferris State University faculty, staff and students come from all over the world with one thing in common – Ferris as ultimately their No. 1 choice. In the Ferris First series, we chat with members of the University community to learn more from them about why Ferris was their No. 1 choice.
They all have a story. Here, we tell part of that story. Meet: Aryn Cowley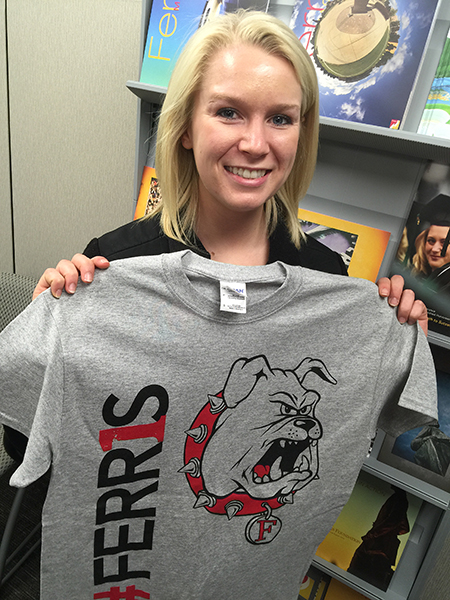 She is: a Surveying Engineering junior from Sandusky, Mich.
What made Ferris your top choice in the end? "Ferris was my No. 1 choice because of the College of Engineering Technology's high recognition," Cowley said. "The Surveying Engineering program is also one of two in the state and is equipped with state-of-the-art equipment."
What do you like most about Ferris? "What I like most about Ferris is how the campus is big enough, but not too big," Aryn said. "It gives kind of a 'homey' feel to me. The atmosphere of the campus and the community is just really enjoyable to be around."
What do you enjoy about your academic major? "I enjoy how the program is relatively small so that you can really get to know everyone on a personal level," Aryn said. "Everyone is willing to help everyone out. I also enjoy being close with my professors and really getting to know them. They push me to be the best that I can be.
"I enjoy all of the opportunities that I have in my major due to the community of surveying being so close," she added.
What student organizations are you involved in, and why? Aryn is involved in the student chapter of the National Society of Professional Surveyors, Burt and Mullet.
"At our student organization meetings, we invite speakers from all areas of surveying. This gives us students a better idea of what is going on in the 'real world' of surveying," Aryn said. "Our speakers will come from all over the country to give us advice, talk about their company and teach us about the new and upcoming technology. It really gives us a chance to become involved with more than what we do in the classroom. Our meetings are also a great way for us to network."
"I am also involved in the Women in Technology student organization," she added. "I joined this organization because women are such a minority in the College of Engineering Technology. In WIT, we try to encourage girls in high school and middle school to understand that we need more women going into STEM (science, technology, engineering and math) job fields."
How is Ferris preparing you for your future? "Ferris is preparing me for my future because of the life skills it has taught me outside of the classroom," Aryn said. "Through Ferris, I feel like I have improved my communication skills enormously. I have had many opportunities through Ferris to build my network of contacts for the future. I have also been prepared in the classroom to have the right skills for my future career."
Why should Ferris be a top choice for others? "Ferris should be a top choice for others because it's a smaller college where the instructors really get to know you," Aryn said. "The small classrooms really make class time personal where you can get the most out of your learning experience. There are so many opportunities and so many majors to choose from for students."
What is the best part about being at Ferris? "The best part about being at Ferris is being around people who enjoy what they are doing as much as you do," Aryn said. "Being surrounded by people who have the same passion and the same drive makes it hard not to succeed."