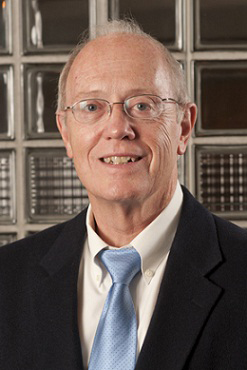 Paul Blake has been named Ferris State University's new provost and vice president of Academic Affairs. Blake has served in this position on an interim basis since May 2014. Previously, he served the university as associate provost, associate dean of the College of Education and Human Services, and program coordinator of English education, among other positions.
Blake joined the Ferris faculty in 1989 and earned promotions from assistant professor to tenured full professor of English. During this time at Ferris, Blake has served on the university's Higher Learning Commission Steering Committee, University Assessment Academy Team, University Athletic Advisory Board, University Student Life Committee and Task Force for Academic Advising, among many others.
"With his considerable experience and record of accomplishment at Ferris, Paul Blake has a unique perspective of the university's strengths, as well as an understanding of the challenges facing higher education and our university," Ferris President David Eisler said. "As a scholar, teacher and leader, Dr. Blake has been an integral part of building Ferris' academic standards and diverse educational programs. He brings to his leadership at Ferris both a sense of continuity and an appreciation for the need to continually innovate."
Blake earned his Ph.D. in English from Michigan State University. He also holds a Bachelor of Arts in English from MSU and a master's degree in English from Ball State University in Muncie, Ind. He is a graduate of the Management Development Program at Harvard University Graduate School of Education. He was selected after a national search which attracted 60 applicants and brought to campus six finalist candidates for intensive interviews.
"I have been honored to work with Ferris State University's faculty, staff and students to move our academic efforts forward this past year, and I look forward to working with them to help make sure we build upon and accelerate those advances," Blake said. "Ferris has nurtured a culture of nimbleness in meeting the changing needs of students as technology and career paths rapidly evolve. That responsiveness will continue to be very important to all of our efforts on behalf of our students."
Blake's appointment is effective Monday, April 6, 2015.
To learn more about Academic Affairs, visit here.