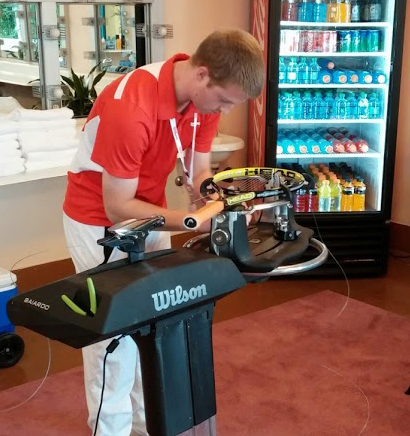 Ferris State University Professional Tennis Management students Alex Meyers and Erik Seifert, certified master racquet technicians through the U.S. Racquet Stringers Association, were selected as the official stringers for the Italian Fed Cup team during its match against the U.S.
The Fed Cup was played in early February in Cleveland, Ohio's Public Auditorium.
Meyers and Seifert, the only two students in Ferris' PTM program that hold that particular certified master racquet technician distinction, spent a week leading up to the competition in preparation. The students watched the Italian-U.S. Fed Cup tennis matches and learned about stringing from some of the best players in the world. On average, Meyers and Seifert returned the racquets to players within half an hour. They indicated that the time exceeded the Italian team's expectations.
The World Cup of Tennis, the Fed Cup is one of the world's oldest annual international women's competitions. It was launched in 1963 to celebrate the 50th anniversary of the International Tennis Federation. It is now the world's largest annual international team competition in women's sports, with 97 different countries participating.