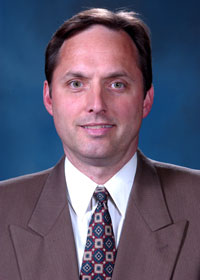 Sixteen Ferris State University Law Enforcement students participated in the Kalamazoo Area Foot Chase on Saturday, Sept. 6.
The Kalamazoo Area Foot Chase is a three-and-a-half-mile adventure run made to resemble the pursuit of a suspect. The event raises money for Michigan Concerns of Police Survivors, a non-profit organization that provides support to family members, friends and co-workers of officers lost in the line of duty.
"It's heartwarming to see the students interested in participating in events like this and actively helping a good cause," said Cecil Queen, associate professor at Ferris and coordinator of the Law Enforcement Academy. "They are representing Ferris very well."
Ferris' Law Enforcement Academy competed with other western Michigan police academies, local officers and approximately 100 community members. During the race, participants faced obstacles such as fences, fields, neighborhoods and buildings, while "witnesses" gave clues as to where the suspect went.
To learn more about the Law Enforcement Academy at Ferris, visit here.
If you're interested in the Kalamazoo Area Foot Chase, visit here.
To learn about Michigan Concerns of Police Survivors, visit here.