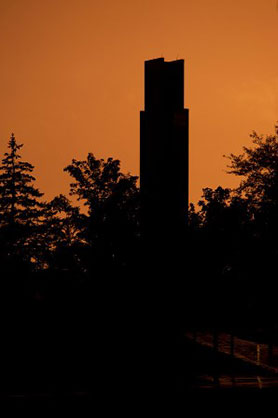 Fourteen Ferris State University students enrolled in the Developmental Curriculum Program during the 2012-13 school year and earned a 3.0 GPA or higher have been awarded scholarships.
"We are pleased to recognize the accomplishments of these students who, in the tradition of founder Woodbridge N. Ferris, took advantage of the opportunity presented to them to become successful students at the university," said William Potter, associate provost of Retention and Student Success. "We would also like to take this opportunity to thank all the donors who have made these scholarships possible."
The awards were funded by gifts and endowments made to Ferris' Retention and Student Success unit. Students were nominated by faculty and staff and vetted by the Associate Provost's office staff and the Financial Aid office.
Six students received Dean's Scholarships, three of which were funded by gifts made to RSS. Two awards were funded by the "Jeans for the Dean" fund made possible with RSS staff contributions throughout the year in exchange for the opportunity to dress casually on Fridays. Dean's Scholarships went to:
Ashley Griggs, Social Work - Muskegon, Mich.
Samantha Ladd, General Studies - Big Rapids, Mich.
Ashanti McNeal, Elementary Education - Flint, Mich.
Serena Skief, General Studies - Lansing, Mich.
Barbara Watson,Pre-Radiography - Flint, Mich.
Five students received scholarships from the Harry S. Melling Memorial Scholarship fund, developed with gifts from the Melling family:
Natalie Ezabele, Graphic Design - Lansing, Mich.
Amanda Ivy, Legal Studies - Sears, Mich.
Jaqueia Jackson, Manufacturing - Detroit, Mich.
Cameron Pennymon, Hospitality Management - Macomb, Mich.
Jesus Wright, Business - Grand Rapids, Mich.
Two students received awards from the Joan E. Totten Scholarship fund, made possible by gifts from family, friends and colleagues in honor of the former member of the RSS staff:
Morgan Doyle, Pre-Pharmacy - Davison, Mich.
Laura Jakubos, Architectural Technology - Cadillac, Mich.
One student received a scholarship from the Susan L. Greene Memorial fund:
Kathryn Munro, Early Childhood Development - Lake, Mich.
And one student was awarded a scholarship from the Patricia and Edward Sammel Memorial fund:
Sakinah Fox, General Studies - Flint, Mich.
The Developmental Curriculum Department of Ferris State University's Retention and Student Success unit provides a variety of courses to students seeking to improve their academic readiness or to determine their career path. Its faculty are committed to developing and offering educational opportunities that prepare students for the academic challenges of university life. The services provided promote personal, academic, cultural, and social growth according to the principles of adult learning and development.