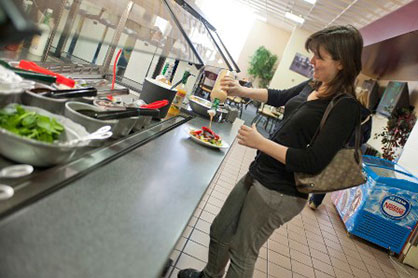 Ferris State University students are invited to "Mix-It-Up at Lunch Day" on Thursday, Sept. 12 to identify, question and cross social boundaries.
The event is a national campaign launched a decade ago by Teaching Tolerance to encourage a simple call to action: Take a new seat in the cafeteria.
"We hope for students to enhance their level of openness, acceptance of others and, overall, for intercultural connections to take place," said Michael Wade, assistant director of Ferris' Office of Multicultural Student Services.
In surveys by Teaching Tolerance, students said divisions are clearly drawn in cafeterias. The campaign challenges students to move out of their comfort zones and connect with someone new over lunch. Studies have shown interactions across social boundaries can reduce prejudice.
Thursday's "Mix-It-Up at Lunch" event will be held from 11 a.m. to 1 p.m. at Westside Café. Subsequent dates are Wednesday, Oct. 2 and Tuesday, Nov. 26.
Students who do not have a meal-plan can participate for free. They must send their name, student number and contact information to [email protected] prior to the lunch. Seating will be limited.
Teaching Tolerance is a project of the Southern Poverty Law Center, a Montgomery, Ala.-based nonprofit civil rights organization. To learn more, visit http://www.splcenter.org/ or http://www.tolerance.org/mix-it-up/what-is-mix.