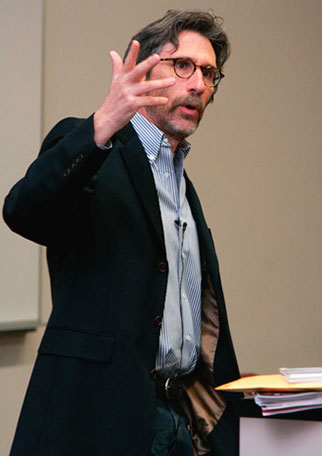 Ferris State University alumnus James Gartner, an award-winning commercial and film director, will return to campus on Tuesday, Oct. 1 for an 11 a.m. presentation in the College of Business, Room 111.
Gartner is perhaps best known for directing the film "Glory Road," a 2006 film based on the true story of Texas Western coach Don Haskins, played by Josh Lucas, who led the first all-black starting lineup for a college basketball team to the NCAA championship in 1966. The film, which opened at No. 1 at the box office, won the 2006 ESPY Award for Best Sports Movie.
Gartner has earned two Emmys and multiple Gold Lion awards at Cannes for his commercial work for such global clients as Visa, AT&T, Pepsi, FedEx, Coca-Cola. He also is a two-time recipient of the Director's Guild Award for Outstanding Directorial Achievement in Commercials.

During his time at Ferris, Gartner worked with Bulldog Radio, the university's student-run radio station.
"James Gartner has created some of the most emotional commercials that I have ever seen. The range of emotions he can capture in 30 seconds is incredible and inspiring," said Alexa Donakowski, a senior from Alpena, majoring in Business Administration and Public Relations. "I look forward to seeing students become inspired by his story."
The event, hosted by the university's student chapters of the American Marketing Association and Public Relations Student Society of America, and Bulldog Radio, is free and open to the public.