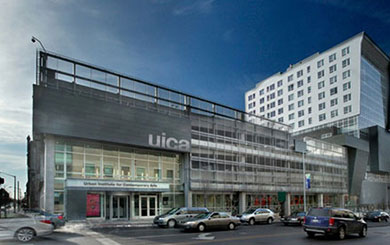 GRAND RAPIDS – The holiday season is right around the corner and this year's Urban Institute for Contemporary Arts' annual Holiday Artists' Market is celebrating its 25th year. The indoor fine arts and crafts market will once again feature the work of dozens of Grand Rapids' accomplished creative talents.
Admission to the market is free to the public, and artists will be on hand to showcase a variety of beautifully crafted and unique handmade goods, including jewelry, fine art, housewares, clothing, bath and body products, and toys. Each featured artist was selected through a juried process, ensuring that only the highest quality goods will be on hand.
"I love to buy one-of-a-kind gifts for friends and family, and can't imagine how I would get it all done without the UICA Holiday Market," said Jenn Shaub, Holiday Artists' Market artist and shopper. "From the unique jewelry that I find for my mom, to the great home goods for my sister's house, it's a fun way to meet and buy from artists. Congratulations to all of the artists and UICA staff who have handmade 25 years of holiday shopping splendor."
The Holiday Artists' Market will also feature a food and beverage court with local vendors, a gift wrap station, a snow globe making station for kids, a holiday tiny terrarium workshop for adults, and a photo booth. Shoppers will also be treated to live music from the Kent County String Band on Friday evening.
UICA members can take advantage of special early admission to the market on Friday, Dec. 6 from 3 to 5 pm, after which the market will be open to the public until 9 pm. On Saturday, Dec. 7, the market will be open to everyone from 10 a.m. to 7 p.m.
"Our members love getting early admission on Friday," said UICA Associate Director Megan Bylsma. "They get first pick of all the unique items as well as a chance to talk to the artists and hear the stories behind the work. The interaction between artist and community is what UICA is all about."
On Friday, Nov. 1, UICA will release additional details about the Holiday Artists' Market so visitors can better plan their visits, including the names and photos of some of this year's artists and their wares, as well as what food and drinks will be available for purchase during the event.