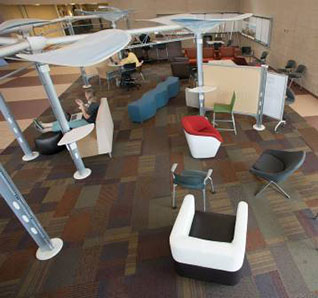 Ferris State University is holding a furniture expo to find out what the campus community wants in its "living room" at the new University Center.
A mix of lounge seating, tables and chairs will be arranged in the Interdisciplinary Resource Center connector for the University Center Lounge Furniture Expo from Monday, Sept. 30 through Friday, Oct. 25.
"We are very excited to have the new furniture on campus and to be able to get feedback from students and the campus community," said Karen Simmon, a project manager for the university's Physical Plant.
The public and lounge spaces in the new University Center will serve as the "living room" of campus, Simmon said. The spaces will be used to meet, study, dine and relax and are intended to be used as "a destination for the entire campus community," she said. Layouts will support individual studying and collaborative group work.
The $33.9 million project to renovate the Rankin Student Center will result in a modern, future-oriented University Center to better meet the needs of students, faculty, staff and the community. It is slated for completion by December 2014.