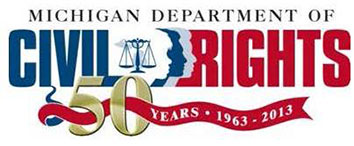 "50 Years Forward: The Continuing Fight for Civil Rights in Michigan and Beyond," a panel discussion with representatives from the Michigan Civil Rights Commission and the Michigan Department of Civil Rights, will be presented at 11 a.m. Thursday, Oct. 17 at Ferris State University.
The event is part of the MDCR's year-long tour of 50 Michigan cities to commemorate the 50th anniversary of the Michigan Constitution and its establishment of the Civil Rights Commission.
The discussion, in the university's Interdisciplinary Resource Center, Room 120, will focus on the accomplishments, challenges and opportunities ahead for civil rights. It is free and open to the public.
"The MDCR is a partner to communities, businesses and individuals advocating for social justice, equity and inclusion," said Matt Olovson, director of Equal Opportunity at Ferris. "In preparation for leadership roles in community development, governmental relations, business or non-profit administration, students in attendance will benefit from the opportunity to network and engage with leaders from the state."
The discussion will include information on MDCR enforcement proceedings, progress made for civil rights in Michigan, programs advancing social justice today and presentation of challenges fought in the struggle for equality and inclusion.

Audience members are encouraged to ask questions of the panel and discuss issues related to discrimination, harassment, equal opportunity and social justice, Olovson said. Topics may include MDCR outreach and advocacy programs for migrant, seasonal and undocumented people, efforts to prohibit ethnic stereotyping and American Indian mascots, cyber-bullying and harassment though social media, hate crimes and LGBT discrimination in Michigan, and opportunities for community partnership and advocacy.
The event is co-sponsored by the university's Governmental Relations and General Counsel, Political Engagement Project, Diversity and Inclusion Office, Office of Multicultural Student Services, and the Center for [email protected] Studies.