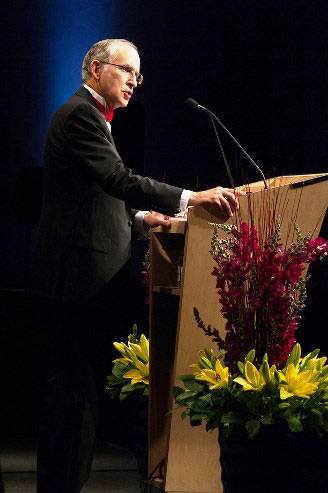 The Ferris State University Foundation for Excellence Benefit, a celebration that showcases the university's commitment to creating opportunities for students, is Friday, Nov. 1 at DeVos Place in downtown Grand Rapids.
Tickets and sponsorship opportunities are available for the 15th annual event, which will feature a keynote address by Emmy Award-winning news correspondent John Quiñones.
Quiñones, co-anchor of ABC news magazine "Primetime" and host of the network's popular TV series "What Would You Do?," will discuss the role education played in his success. Quiñones grew up in a poor family of migrant workers to become ABC's first Latino correspondent and a seven-time Emmy Award winner. (Read the story here.)
The benefit supports The Ferris Foundation for Excellence Scholarship Program for students and Exceptional Merit Grant awards for faculty and staff. The event demonstrates the ways the university is impacting lives and strengthening Michigan's future through education and outreach.
"Given the Opportunity, 'What Would You Do?'" is the theme of the 2013 event, which will highlight the Foundation's most recent student scholarship winners and merit grant recipients.
The black-tie-optional event will begin with cocktails and a reception for top-level sponsors with Quiñones at 5:30 p.m. Dinner will be served at 7 p.m., followed by the program at 8 p.m.
Wolverine Power Marketing Cooperative (WPMC) has teamed with Ferris to serve as title sponsor. WPMC, headquartered in Cadillac, is an Alternative Electric Supplier licensed by the Michigan Public Service Commission to participate in the state's electric choice market. Ferris has been a member since 2003. Click here to view a video highlighting the title sponsor.
For additional information on The Ferris Foundation, visit https://ferris.edu/giving/.