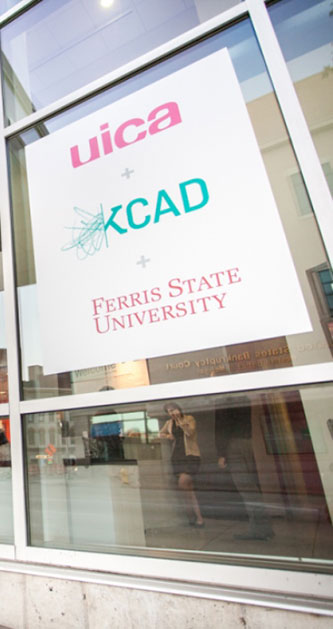 GRAND RAPIDS — Just as Pulso: Art of the Americas explores the ways in which regional boundaries affect the perception of art, contemporary art challenges its own boundaries, transcending the gallery. In an increasingly connected world, it's only natural that contemporary art from around the globe participates in a broader engagement of the viewing public. Pulso inhabits a multi-faceted platform by which the concepts, themes, structures, and issues of the work itself can be fully explored by audiences.
"The goal of any exhibition of artwork is to engage the viewers, to elicit a reaction from them," said Kendall College of Art and Design President David Rosen. "Why, then, would we want to limit that interaction to the confines of a gallery? The heightened sense of collaboration here in Grand Rapids has enabled us to actively explore that question with an exhibition that challenges conventions surrounding the presentation of contemporary art."
By supplementing the traditional gallery viewing experience with a host of additional artist talks, workshops, multi-media events, and educational outreach, Kendall College of Art and Design and Urban Institute for Contemporary Arts, both of Ferris State University, have created a complete immersion into the cultural, aesthetic, intellectual, and social components of contemporary art with Pulso: Art of the Americas.
The experience of Pulso will begin at the exhibition's opening reception, which will be held from 5 to 9 p.m. on Wednesday, Oct. 30 at KCAD and UICA. The evening will open with an interactive panel discussion featuring a selection of Pulso artists and organizers, and then move on to the reception itself, which will feature authentic Latino cuisine and live music from Villalobos, the lounge version of Cabildo, veterans of the local music scene known for their grove-laden Latin-flavored style of dance music, and Sonorama, a Chicago-based DJ collective that crisscrosses geographical borders and musical genres with ease. Other highlights include a special performance by Pulso artist Saul Aguirre and a gallery talk by Pulso artist Gerardo Hacer.
Two additional artists talks, on Wednesday, Nov. 20 with Esteban de Valle (estebandelvalle.tumblr.com) and Edith Garcia, and one on Wednesday, Nov. 27 with Hugo Claudin (hugo-claudin.blogspot.com/) will give those who have viewed the artwork of Pulso the opportunity to interact with other viewers and the artists themselves, moving the experience of the audience out of the visual and into the intellectual.
Reflecting the ways in which one piece of contemporary art intertwines with another, Grand Rapids-based Gorilla Pictures will premiere "Beautiful Prison" on Friday, Nov. 1 at UICA. Directed by Joel Vallie, the film is a genre-bending tale filled with romance, intrigue, comedy, and demons. The premiere event will also feature music from local rock and roll upstarts The Bang-Ups and a Q+A session with members from Gorilla Pictures.
"This film was shot in Saltillo, Mexico and stars Mexican pop star Ernesto D'Allesio, but it was shot and produced by a film company from right here in Grand Rapids," said UICA Curator Alexander Paschka. "Premiering 'Beautiful Prison' in conjunction with Pulso allows us to further explore cultural connections and universal themes through the art of cinema."
Following the premiere, there will be two encore showings of "Beautiful Prison" on Saturday, Nov. 2 and Sunday, Nov. 3. These showings will also be followed by a Q+A with Gorilla Pictures.
A special Printmaking Day with artists from the Instituto Gráfico de Chicago will be held at KCAD on Wednesday, Nov. 13. The group will review portfolios and critique the work of KCAD printmaking students in the morning and afternoon before conducting a free printmaking demonstration and workshop, open to the public, where all ages can learn the basics of the art. Space for Printmaking Day is limited. Please visit pulsoprintmaking.eventbrite.com to RSVP.
"Great art exhibitions should inspire audiences to pursue their own creativity," said KCAD Director of Exhibitions Sarah Joseph. "In organizing Pulso, we felt that hands-on experiences like these were essential to extending the exhibition's impact."
Additional programming will provide immersive, hands-on educational experiences to all age levels.
"The educational components of Pulso are designed to get young adults thinking about the broader implications of art," said KCAD Dean of Student Success Sandy Britton. "As students transition from high school to college, it's important for them to know how art functions within culture and how they can interact with it in meaningful ways."
Artist Yohan Daza and Illusionist Jeff Veley will bring the message of their nationally renowned anti-bullying campaign, "Y Do You Hate Me," (ydoyouhateme.com) to KCAD at a special event for high school students on Friday, Nov. 15. Using a mix of music, comedy, storytelling, and illusion, Daza and Veley teach kids how to deal with bullying in a positive and uplifting way. Register online at ydoyouhateme.eventbrite.com.
Pulso guest curator Salvador Jiménez Flores will host a free High School Day on Wednesday, Nov. 6 that will take students on a tour of both the KCAD and UICA portions of the exhibition. Following the tour, printmaking artist Alynn Guerra will bring students to her studio, Red Hydrant Press, where she will demonstrate printmaking in action and show the various tools and equipment used to create a print. Space for this event is limited. Please visit pulsohighschoolday.eventbrite.com to RSVP.