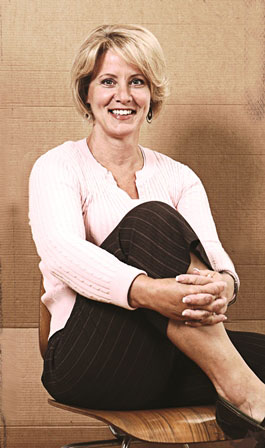 GRAND RAPIDS – Ferris State University's Kendall College of Art and Design Art Education Program Chair was appointed to a special task force that will work closely with the National Art Education Association's Board of Directors to review and analyze the organization's existing leadership strategies and to identify and recommend new program goals, core competencies and implementation models.
"I am quite surprised and extremely honored to have been appointed to this special task force," said Todd, upon hearing that only 10 of the NAEA's thousands of members were selected for this prestigious position. "I'm looking forward to the challenge of working together to help the organization further develop its leadership."
Todd currently serves as past president of the Michigan Art Education Association, the state affiliate of the NAEA. She will serve on this special task force as the higher education representative of the NAEA's western region. The upcoming NAEA National Leadership Institute, which will occur after the special task force has convened, will mark the first time in NAEA history that all of the organization's state presidents will meet together at the same time.
"I've been an active member of the NAEA since I was in my undergrad years, and I'm excited to meet and collaborate with these impressive leaders from across the country," Todd said. "I'm certain that The National Task Force on Leadership will contribute greatly to the future growth and success of the NAEA."
In the past, Todd has been heavily involved with NAEA and MAEA conventions, retreats, planning committees and leadership forums, all designed to help art educators from around the country be exposed to ideas, practices, materials, and methods outside of their own personal experience. Such events act as a collaborative springboard, enabling participants to broaden their perspective and become better leaders by synthesizing others' effective leadership tactics with their own. The special task force will work to improve organizational leadership by developing ways to get more art educators involved in these types of collaborative activities.
"We have 1400 art teachers in Michigan, but there are only 900 who are actually a part of the professional organizations," Todd said. "The goal of this task force is to figure out how we can spark the interest of the remaining 500 and infuse their practice with fresh ideas."
The full report and recommendations of the task force will be presented to the board at the March 2014 meeting.