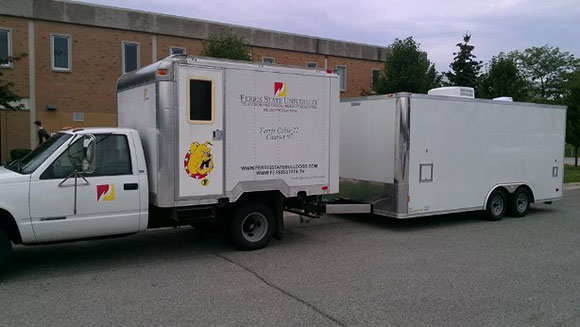 Fans of the Ferris State University football and hockey teams are getting a high-definition visual look at the action, courtesy of the Television and Digital Media Production program's new remote production equipment and trailer.
The trailer serves as a lab for students enrolled in the Remote Production class. TDMP students participate in live television production that offers high-definition coverage of home football and hockey games. The trailer also allows for live video feeds to the new Daktronics scoreboard and sound system at Top Taggart Field, the football stadium.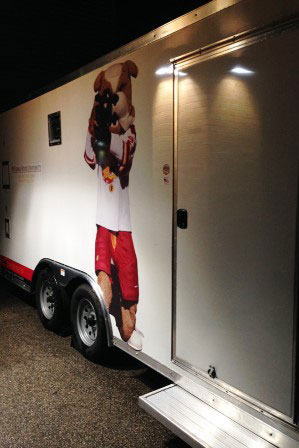 The trailer also supports student learning and real-world experience, noted associate professor Glen Okonoski, chair of Ferris' TDMP program.
"Our students are able to use modern technology to get real-world experience," Okonoski said. "Our old equipment made it more difficult for students to apply what they've learned to the workplace."
After a home hockey game last season, when two cameras failed and one computer crashed, Okonoski realized that new equipment was needed to better produce athletic events. TDMP students had to "limp through production" with two cameras and no graphics, according to Okonoski.
Through a partnership between the Ferris Athletics and TDMP, the production team upgraded to a four-channel, high-definition production with three channels of replay.
"I want to emphasize the importance of the partnership and collaboration on campus that made this project become a reality," Okonoski said. "It is a multi-faceted project that will benefit TDMP students, athletics and most importantly, the fans."
Eighty percent of the new equipment and trailer was funded by TDMP while the remaining 20 percent was funded by Athletics.
The new equipment, housed in the trailer, is visible near the Wheeler Pavilion press box at Top Taggart Field, during football games, and just outside the Ewigleben Sports Complex, near the east entrance to the ice arena entrance, during hockey games.
The production trailer is wrapped in pictures of TDMP students doing fieldwork and gaining real-world experience. The new HD signal will be used for live streaming, creation of video highlights and feeding the new scoreboard at the football stadium.
The scoreboard is operated from the press box, but the new equipment allows production students to send signals to the scoreboard so that game replays are possible.
"This equipment makes the fans' experience more enjoyable," said Okonoski "The equipment allows fans to have more of a live experience."