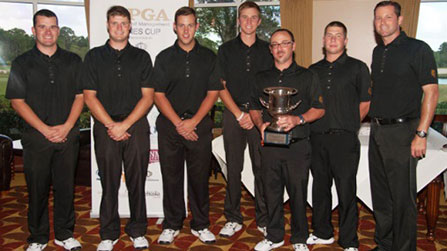 PORT ST. LUCIE, Fla. – Ferris State University's Professional Golf Management team won the 12th PGA Jones Cup, presented by High Definition Golf, for the first time in school history.
The final round of the national 36-hole championship at PGA Golf Club was conducted by The PGA of America. The PGA Jones Cup featured 19 schools in the PGA Golf Management University program, including the top five players from each school. Representing Ferris, at Wanamaker Course (Nov. 5-6), were Nicholas Haudek, of Bellevue, Mich.; Patrick Humphrey, of Jackson, Mich.; Chad Sandee, of Sheyboygan, Wis.; Adam Schumacher, Oak Creek, Wis.; and Matthew Sheperd, of Oxford, Mich. The PGM team was joined by Ian Ziska, the head golf professional at Ferris, and Aaron Waltz, director of Ferris' PGM program.
Sandee earned medalist honors with a 1-under-par 143 (70-73) during the two-round championship. Sheperd, who finished four strokes off the lead, ended in a three-way tie for second on the final leaderboard.
The Ferris PGM team finished the championship with a 13-over-par total of 589.
"To come home with the trophy is a big deal, a huge deal really to these kids," said Ziska, after the Ferris team finished 10 strokes ahead of runner-up Florida State University and 12 ahead of Florida Gulf Coast University. "It was more of a grind (in the second round). Anytime you play with a big lead, in the back of your mind, you're guarded. Playing prevent defense is the best way to describe it."
The PGA Jones Cup serves to provide a platform where participants can display professionalism, integrity, character and camaraderie; characteristics Dr. S. Roland Jones emphasized to golf management students.
Universities participating in the PGA Jones Cup are accredited by The PGA of America to offer the four-and-one half to five-year PGA Golf Management University Program for aspiring PGA professionals. Students in the PGA Golf Management University Program study a combination of golf and business-related subjects and serve a minimum of 16 months in on-course, golf-industry internships.