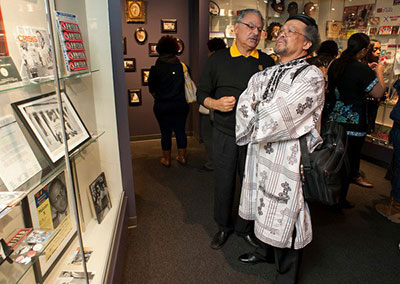 Ferris State University's Jim Crow Museum of Racist Memorabilia will be highlighted tonight, Tuesday, Nov. 12, during the PBS series, "The African Americans: Many Rivers to Cross with Henry Louis Gates Jr."
The episode, scheduled to air at 8 p.m. (check local listings), includes an interview with Ferris Vice President for Diversity and Inclusion David Pilgrim, who also is founder and curator of the museum. Additional footage of the museum's collection will be shown in episode six, "A More Perfect Union," which airs on Tuesday, Nov. 26.
"I am grateful to Professor Gates for including the museum in this important film; it will certainly help extend our work to a broader audience," Pilgrim wrote on the Jim Crow Museum's Facebook page. "As always, I am also thankful to the many people who worked to make the museum a real place in the real world—and not just a dream in my head."
The 3,500-square-foot museum, located in the Ferris Library for Information, Technology, and Education on the Big Rapids campus, offers a timeline of the African American experience in the United States.
Gates, a noted Harvard scholar, visited the Jim Crow Museum in November 2012 with a PBS film crew to shoot a segment for the six-hour series, which chronicles 500 years of black history. Episode four, "Making a Way Out of No Way," portrays the Jim Crow era.