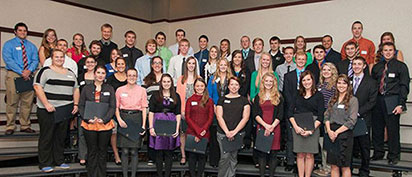 Ferris State University honors students were recognized for their academic achievements and leadership efforts during the Honors Program Awards on Thursday, Oct. 24.
The event, held each semester, is an opportunity for parents to join Ferris faculty and staff to commend students' work.
"It's a nice thing to recognize the amount of work students have done and the things that they have achieved," said Peter Bradley, Honors program director.
Three students received scholarships for demonstrating academic excellence and leadership, involvement in registered student organizations and for their potential for success, Bradley said. They were nominated by fellow Honors program students.
They are:
Edwin Harris Memorial Scholarship – Megan Brockett, a sophomore from Howell majoring in Accountancy/Public Accounting
Stanley Dean Scholarship – William Meengs, a junior majoring in Biology/Pre-Optometry from Byron Center
Virginia Miles Shepler Scholarship – Nathaniel Deak, of Lansing, a junior majoring in Biology/Pre-Medicine


Students also nominated candidates for their community service and involvement in RSOs on campus. Those recognized were:
Outstanding Peer Mentor – Breann Baranski, a sophomore from Bad Axe majoring in Pre-Pharmacy
Outstanding Leaders – Logan Bixman, a sophomore from Fenton majoring in Pre-Pharmacy, and Nicole Christy, a senior from Iron Mountain majoring in Biology/Pre-Dentistry with a minor in Psychology
Outstanding Volunteer – Allegra Babiarz, of Elk Rapids, a sophomore majoring in Pre-Science/Biology


Students voted Charles Vannette, an assistant professor in the Department of Languages and Literature, as Outstanding Honors Professor.
In addition, 86 students were recognized for earning a 4.0 GPA for the Spring 2013 semester.
Ferris' Honors program provides academic and leadership resources and support to challenge and nurture some of the university's most highly motivated students.