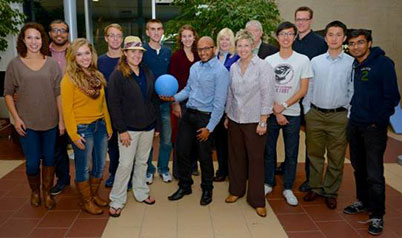 Students in two registered student organizations at Ferris State University are asking their peers, faculty and staff, and Big Rapids residents to help children in disadvantaged communities by participating in the "We Are One – One World Futbol Project."
FSUbuntu and Circle of Tribal Nations are set to launch a local campaign for the One World Futbol Project, a mission-driven organization that makes, sells and distributes nearly indestructible balls to at-risk youth worldwide. The kickoff is 1 to 6 p.m. Saturday, Nov. 9 in the multipurpose room of the Ewigleben Sports Complex.
Organizers will provide information about how to get involved, and the event will include a soccer tournament to raise money for the campaign. The public is invited to attend.
"Our goal for this campaign is that Ferris State University will be united in the mission to bring the simple enjoyment of play to youth around the world, despite their living conditions," said FSUbuntu President Emily Pietrowicz.
One World Futbol, whose goal is to encourage play and sport to foster social change, has distributed more than 500,000 balls in 160-plus countries since the company launched in 2010, according to its website, http://www.oneworldfutbol.com/.
"We would like to raise enough money to buy 125 soccer balls to represent Ferris' quasquicentennial anniversary," Pietrowicz said. "Ultimately, these soccer balls are used as a platform for peace-building and global awareness."
The kickoff event is part of the university's Native American Heritage Month celebration.