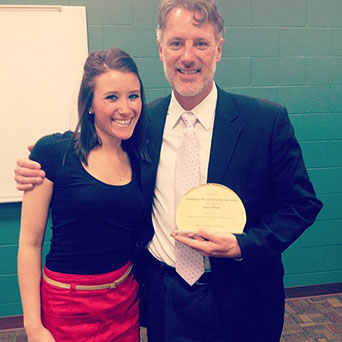 Students, faculty and staff at Ferris State University were recognized for their outstanding achievements during the Torchbearer Awards presented by Student Leadership and Activities.
"It is important to recognize all of the effort students and advisors put forth to contribute to Ferris and the Big Rapids community," said Elvira Rajala-Wilk, coordinator of Student Engagement and Leadership. "The Torchbearer Awards are a way for Ferris to say thank you."
The awards were presented Wednesday, May 1 during a ceremony in Williams Auditorium.
The Torchbearer Award for graduating seniors who have displayed outstanding leadership skills on campus and in the Big Rapids community was presented to Tiama Dry, Melissa Hanson, Katie Hornshaw, Megan Kuk, Avery Larson, Gabrielle McMaster, Kija Meads, Katie Milbourne, Courtney Parks and Danielle Voorhies.
The Rising Star Award for underclassmen who display developing leadership skills went to Mabel Acosta, Paige Bukowski, Nicole Christy, Nicole Conley and Samantha Watson.
Patrick Bishop, an associate professor in the College of Business, was named Outstanding Campus Advisor for his work with the Ferris chapter of the Public Relations Student Society of America.
Registered student organizations that have proven outstanding achievement in campus participation and programming are recognized with the Five Star Award. Winners this year were American Marketing Society, Circle K, Colleges Against Cancer, Lambda Kappa Sigma, Military Support Group and the Social Work Association.
The Initiative 125 award, presented to students who have completed more than 125 hours of community service, was given to: Ashley Aikens, LeAnn Barstow, Carrie Bechaz, Courtney Beck, Camille Brillinger, Shannon Bush, Amber Cumings, Brendan Doyle, Michelle Dunm, Alicia Durst, Janelle Dykstra, Brooke Edwards, Jazmine Goode, Jenna Grimm, Julianne Herbin, Matthew Holliday, Jessica Holmes, Kiara Hunter, Amanda Jewll, Delaney Kent, Kayla Klosterman, Bridget Kroetsch, Shagahna Langerak, Heather Lewis, Kelly Mccarthy, Jesscia Monitz, Tiana Nelson, Khrystyne Noeldener, Ronald Olkowski, Mckenzie Pahl, Emily Pietrowicz, Sydney Rubingh, Scott Sawyer, Allison Schieger, Kristen Thorhauer, Contale Tolbert, Alyssa Uganski, Stephen Vear, Natalie Weber, James Young and Rebecca Young.