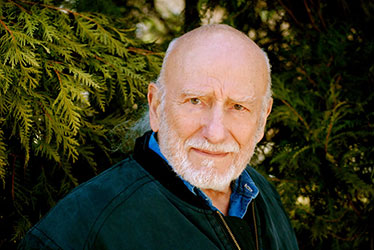 GRAND RAPIDS –Renowned illustrator, celebrated art educator and respected illustration historian Murray Tinkelman has earned numerous accolades for his work. But the Honorary Doctorate of Arts he will receive from Ferris State University's Kendall College of Art and Design during commencement on Saturday, May 11 "is beyond words."
"I have such enormous respect for Kendall – I really can't describe the feeling of receiving this honor," Tinkelman said. "This is the best thing that has happened to me in academia."
And that's saying something.
Tinkelman, whose work has appeared in The New York Times, Saturday Evening Post and The Washington Post, is considered an icon in the art world. He will be inducted into the Society of Illustrators Hall of Fame this summer, more than 60 years after his first illustration was published in Seventeen Magazine.
"It was awful," said Tinkelman, who has illustrated numerous advertisements, op-ed pieces, children's books and book covers, including covers for Zane Grey Westerns. "I was paid $10. You're right if you assume I was grossly overpaid."
But the artist admits the evolution of his work is a lesson for fledgling artists, one he's shared in lectures at museums, universities and colleges from coast to coast, including at Kendall.
"I love the caliber of students there," Tinkelman said. "They had so many questions I nearly missed my plane."
Tinkelman became familiar with Kendall more than 30 years ago, when students participated in the Society of Illustrators' Student Scholarship Competition. He was impressed by the "superior level of work" submitted by students in the highly competitive show and in subsequent competitions, and developed a friendship with artist Jon McDonald, chair of the Illustration program at Kendall. He visited the Grand Rapids campus for guest lectures in 2008 and 2011.
"We recognize that such a high honor is reserved for only the most talented and accomplished professionals," said Kendall President David Rosen. "Judging by this criteria, Murray Tinkelman is long overdue since his accomplishments as an illustrator and art educator are unparalleled."
Tinkelman's illustration prowess has earned numerous awards. He was commissioned by The National Park Service to draw and paint national parks and monuments, and his baseball illustrations have been displayed at the National Baseball Hall of Fame and Museum and the United States Sports Academy.
His work can be found in many permanent collections of the Brooklyn Museum, the Delaware Art Museum, the International Photography Hall of Fame and Museum, the New Britain Museum of American Art and the Norman Rockwell Museum.
Tinkelman's well-earned success and notoriety as an illustrator mirrors his love for teaching.
He is the founding chair of the illustration program at Parsons School of Design, taught illustration and is professor emeritus at Syracuse University, and founded the Low Residency Master of Fine Arts in Illustration Program at Hartford University's Art School.
Tinkelman enjoys traveling around the country and presenting slide presentations on his work, the history of illustration and related topics.
He prides himself on combining his career as an artist with his career as an educator.
"There's a libelous cliché – "Those who can, do; those who can't, teach – I am so offended by that statement," Tinkelman said. "I think those who can, do and teach."
Tinkelman, who celebrated his 80th birthday on April 2, lives in Cortlandt Manor, N.Y. with his wife, Carol, who coordinates the MFA program at Hartford. On April 7, they celebrated their 56th wedding anniversary.
Kendall will hold its commencement ceremonies at 10:30 a.m. at Fountain Street Church in Grand Rapids. Of the 249 students who will receive degrees, almost 190 are expected to participate in the ceremony.