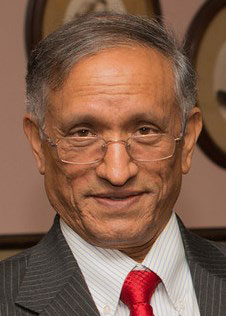 Khagendra Thapa has been elected president of Ferris State University's Academic Senate for the 2013-14 academic year.
Thapa has served as a member of the Academic Senate every year but one since 1989, service that has included a term as vice president. He has been a faculty member of Ferris' Surveying Engineering Department since 1987. Educated in Nepal, United Kingdom, Canada and the United States, Thapa earned five degrees in the four countries, including his master's and doctorate from The Ohio State University.
Thapa has presented research papers at many international and national conferences, and published research articles in national and international referred and trade journals. He has served as referee for various journals related to Geodesy, Photogrammetry, Cartography and Geographic Information Systems. Additionally, Thapa is an evaluator with the Accreditation Board for Engineering and Technology, a national accreditation agency for which he served as a commissioner from 2008 to 2011.
Among the numerous awards Thapa has received are Ferris' Provost Award of Excellence, the Michigan Association of Governing Boards Distinguished Faulty Award and Ralph Moore Berry Education Award from the Michigan Society of Professional Surveyors. Additionally, he was named the 2008 Distinguished Teacher at Ferris.
In addition to his teaching and scholarship at Ferris, Thapa has helped secure significant grant money for the university. His activism outside of the classroom includes being a past president of the Association of Nepalese in Midwest America.
New Executive Committee Members of the Academic Senate

Khagendra Thapa, president, College of Engineering Technology
David Marion, vice president, College of Business
Melinda Isler, secretary, librarians/counselors
At-Large Members
Adnan Dakkuri, College of Pharmacy
Dr. Amy Dinardo, Michigan College of Optometry
Susan Wancour, College of Health Professions
To learn more about the Academic Senate, visit: https://ferris.edu/senate/